When Pigs Fly Ranch
Wesley was a 4H pig, destined for the family freezer. But his people couldn't do it. Now he lives in the lap of porcine privilege as the undisputed star of When Pigs Fly Ranch animal sanctuary.
The Ranch, tucked away in a hidden hollow off Odd Fellows Park Road in Guerneville, houses 10 pigs, from smaller pot-bellied pigs to a rescued wild pig to Wesley in all of his 800-pound glory. The "founding pig," 13-year-old Piggy, recently passed away and was buried on the property. Sweet-natured, friendly Piggy made a lot of local friends over the years, as she poked her head through the bushes along the side of the road to socialize with passersby.
"I met Piggy on Thanksgiving Day, 2016, and I fell instantly in love," said co-founder Marybeth Hall.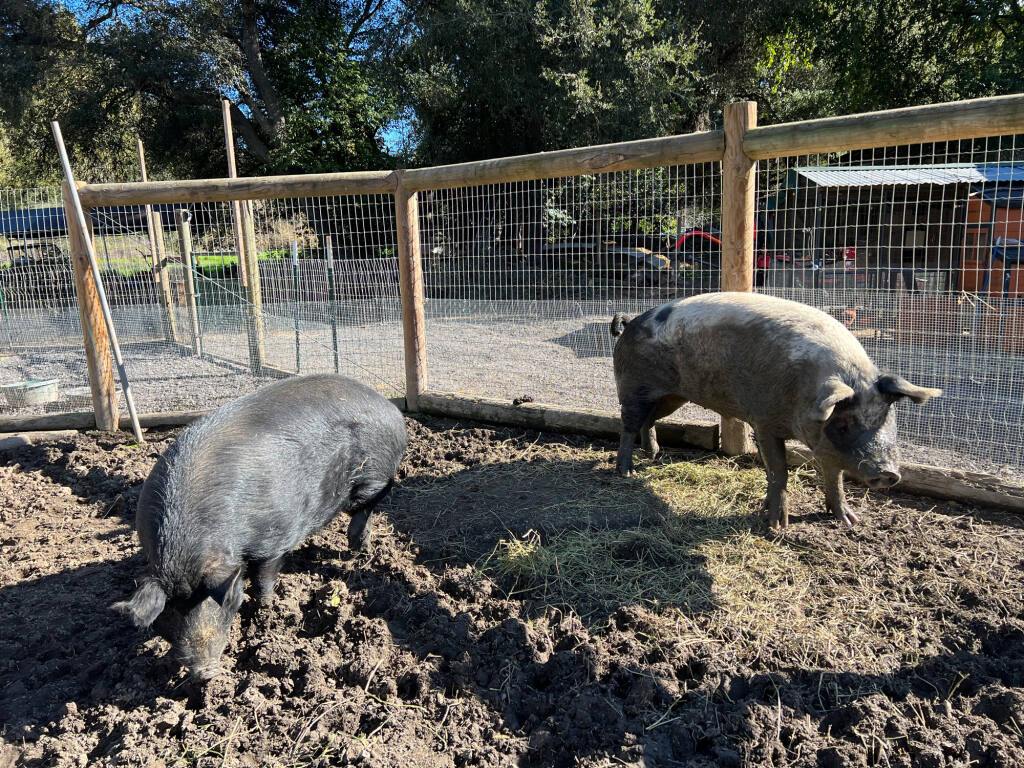 Marybeth and her husband Glenn get a lot of support from the neighbors and local community. Russian River Pub donates food scraps, as does Grocery Outlet in Windsor. The pigs also eat fresh veggies and fruits, along with vitamins, nutrients and daily supplements. They enjoy alfalfa, chicken scratch and kibble. Lots and lots of pig kibble. But pigs are picky eaters. They turn their snouts up at broccoli, Brussels sprouts, onions and peppers. They thrive on frequent belly-rubs.
When Pigs Fly Ranch is a 501(c)(3) nonprofit, supported by donations and fundraisers. They've done successful fundraisers at Rainbow Cattle Company in Guerneville and have a newly energized board beating the bushes for community support.
The animal sanctuary ranch is now working on plans for expansion. "Every week we hear from people looking for homes for pigs," said Marybeth. But expansion is very time consuming and expensive. You can make an online contribution at whenpigsflyranch.org and you can meet the pigs by appointment. Want to help out as a volunteer? Contact info is on the website.