Sonoma County Guide to Pools, Rivers, Lakes and Boat Rentals
FOR COVID UPDATES, please CALL before going to get the most up-to-date rules, hours, days of operation, etc.
Summer is all about playing in the water... in our rivers, lakes and swimming pools. The MOST IMPORTANT thing to know is how to SWIM...so if you don't know yet - take lessons or use a life vest for safety. Many public pools offer SWIM LESSONS
Sonoma County Regional Parks partners with city recreation departments to offer the "Vamos a Nadar/Let's Go Swimming" program (Due to the Covid-19 health emergency, the Vamos a Nadar program is on hold). The program offers low-cost bilingual swim lessons to children and water-safety training to parents. For more information and to register, call 707-565-8034.
If we have missed any - please let us know and well update our Resource Guide – email to: editor@sonomacountygazette.com ~ THANK YOU
PUBLIC SWIMMING POOLS
• CLOVERDALE
YMCA Cloverdale Pool Extension, 205 West First Street, Cloverdale
707-545-9622 x3126, scfymca.org
Cloverdale Pool FAQ: scfymca.org/clientuploads/PDFs/Cloverdale_Pool_2020_FAQ.pdf
Wednesday-Sunday 12:00-7:00pm divided as follows: FAMILY SWIM: 2:00-2:00pm and 2:20-4:20pm, LAP SWIM: 4:30-5:30pm and 5:40-6:40pm. Family Swim Pass: $10, Adult Swim Pass: $5, Youth Swim Pass: $4, Senior (55+) Swim Pass: $4, Y Members: Free
• HEALDSBURG
Healdsburg Swim Center, 360 Monte Vista Ave., Healdsburg (on High School campus)
Pool: 707-431-3613 - Parks and Rec: 707-431-3301
healdsburgparksandrec.org/254/Aquatics-Programs
Public Swim 1-4 Daily, through Labor Day Weekend. Kids 3+ and Seniors $3, Adults $4. Call or click on this link for a PDF of swim lessons and complete schedule.
• PETALUMA
Synergy Health Club, 1201 Redwood Way, Petaluma
707-766-8080, synergyhealthclub.org/
Summer swim lessons offered, group, private, and semi-private. Discounted price for club members. https://synergyhealthclub.org/aquatics-at-synergy-health-club/
Cavanaugh Recreation Center, 426 8th at G Street, Petaluma
707-778-4536, cityofpetaluma.net/parksnrec/pet-swim.html
Outdoor heated (88 degrees) pool, run by the City of Petaluma Parks and Rec Dept. Youth Programs Run: June 4 – Sept. 27 Closed July 4. Public swim through Sept 4, Mon-Sat 1-4 Closed Sunday Fees: Adult $5, Seniors $4, Youth and non-swimmer $2 Call for swim lessons and Aqua Zumba schedules.
Petaluma Swim Center, 900 E. Washington St. Petaluma
707-778-4410m, cityofpetaluma.net/parksnrec/pet-swim.html
The Swim Center has a 50-meter heated outdoor pool and a heated wading pool from 2-3 feet deep. The complex includes heated showers, dressing rooms, a large deck and picnic areas. It is run by the City of Petaluma Parks and Rec Dept. Check website for schedule & Fees: Call for lap swimming, swim lessons and Aqua Zumba schedules, and specific dates and time for holidays.
• RIO NIDO
Rio Nido Roadhouse - Swimming Pool, 14540 Canyon Two Rd., Rio Nido (off River Rd.)
707-869-0821, rionidoroadhouse.com
The summer pool season begins over the Memorial Day Weekend and lasts through Labor Day Weekend–unless unusually warm or cold weather changes the dates. During the day, a lifeguard is always on duty. Concurrently, the outside Snack Bar opens with its own more casual and kid-oriented menu. The pool is open daily at 11:30 AM and closes at 6:00 PM except Saturdays, and during special events, the pool will close earlier, generally around 5:30 PM. Daily and Full Season Passes are available as well as Punch Passes (10 swims at a bargain rate). Water Aerobics: Instructor, Maureen Hulsmann Sat & Sun 10a, Mon 5:30p, Tu - Th 9:30 a
• ROHNERT PARK
Benicia Pool, 7469 Bernice Ave., Rohnert Park
707-795-7582, rpcity.org for a complete schedule.
Open June thru Aug. Pool heated to 81 degrees, and a one-meter diving board. Operated by the Rohnert Park Parks and Rec Dept.
Honeybee Pool, 1170 Golf Course Dr., Rohnert Park
707-586-1413, rpcity.org for complete rates and schedule.
Operates year round. Outdoor heated pool with a one-meter diving board. Lap swim sessions are offered year-round as well as water exercise classes. Run by the Rohnert Park Parks and Rec Dept.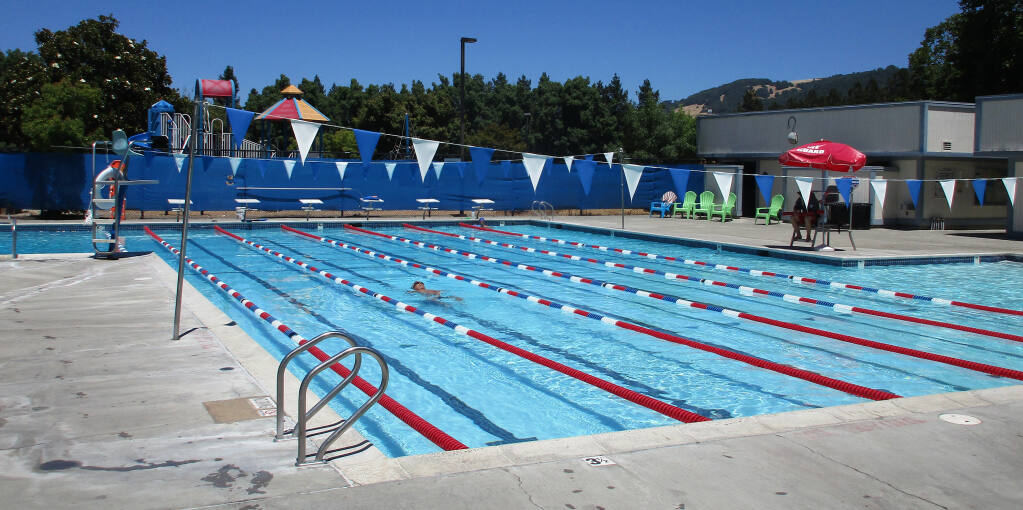 Magnolia Pool, 1501 Middlebrook Way., Rohnert Park
707-795-8619, rpcity.org for complete rates and schedule.
Open for the summer from June thru August. Pools are available for limited private rentals for parties and picnics. Please call the Sports & Fitness Center at 588-3488 weekdays between 11:30 a.m. and 4:00 p.m. for available dates and times. Rohnert Park Swimming Pools & Programs
• SANTA ROSA
Finley Aquatic Center, 2060 West College Ave., Santa Rosa
707-543-3760, ci.santa-rosa.ca.us or santarosarec.com
State-of-the-art swim facility run by the Santa Rosa Parks and Rec Dept. features outdoor heated pool. Recreation swim - Check website for schedule& fees. Children 2-17, Seniors, and Disabled.