Gazette's guide to Sonoma County cannabis and dispensaries
Cannabis 101
If it's one thing we've learned during the COVID-19 pandemic, it's that cannabis is here to stay. While many policies and regulations need to be worked out, it's obvious that not only do people enjoy cannabis, they support it (with their dollars anyway).
Still, buying cannabis today tends to have some sort of stigma attached to it, despite the fact that adults in California can use it legally for fun (we voted for that, remember?).
Perhaps it's that very thing that cannabis has an unforgiving stigma: it's a plant that is both medicinal and fun. It grants peace, harmony, relaxation and can have health benefits. It isn't like the other drugs it is categorizes with federally that don't have any of those aforementioned attributes...which is probably why it still feels weird to make a very legal purchase at a dispensary or with a delivery driver (at your house even).
This guide is to help those get dip their toes into the world of cannabis (without having to actually dip their toes).
What's CBD?
CBD (cannabidiol) is one of a group of unique chemical compounds found only in the cannabis plant. These chemical compounds are known collectively as cannabinoids. So far, scientists have isolated 113 of these special molecules, but a large number still remain.
CBD does not get you high. In fact, when taken with THC, CBD actually reduces just how high you can get.
Think of THC and CBD as batteries. THC is a AA, and CBD is a AAA. The cannabinoid receptor in your brain only turns on when the right size battery is inserted—in this case, the AA (THC). The AA fits nicely into the receptor, turns it on, and produces the psychoactive high we all know and love.
But the AAA (CBD) also fits into the receptor. It's not an exact match like the AA, so the AAA doesn't activate the receptor. That's why CBD doesn't get you high: it's not built to activate the receptors that cause your world to go psychedelic.
CBD is used to help treat the following:
Inflammation
Pain
Seizures
Psychosis or mental disorders
Inflammatory bowel disease
Migraines
Depression
Anxiety
Of course, there are side effects, which may include:
Appetite changes
Fatigue
Weight loss
Dizziness
Diarrhea
What's THC?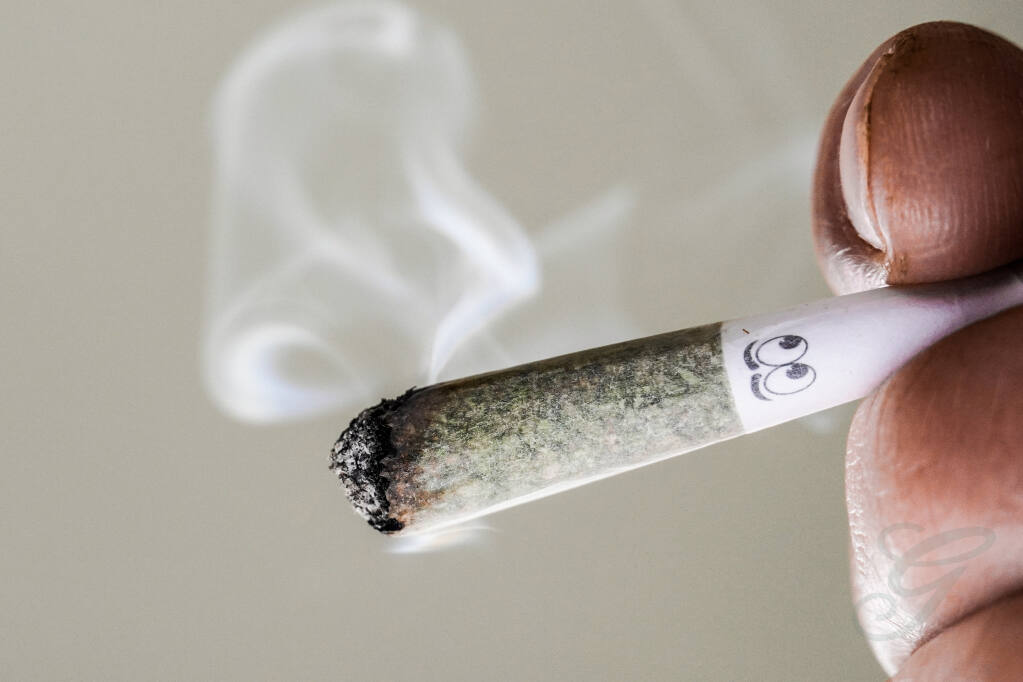 Delta-9-tetrahydrocannabinol (THC) is a chemical secreted by the glands of the marijuana plant. It is found in high doses around the reproductive organs, as well as in the resin glands of the bud or flower of the female pot plant.
Although THC is only one of 85+ chemical compounds known as cannabinoids found in the cannabis plant, THC is the primary psychoactive ingredient in cannabis. It takes almost all the credit for creating your cerebral high.
THC is used to help treat the following:
Pain
Insomnia
Muscle spasms
Glaucoma
Low appetite
Nausea
Anxiety
Of course, there are side effects, which may include:
Increased heart rate
Coordination problems
Red eyes
Dry mouth
Slower reaction times
Memory loss
Anxiety
Flower, edible and now drinks?
It's true; cannabis has evolved from the early days of Humboldt County when the founding fathers and mothers smoked bud and rolled joints.
"This is way different than it used to be," we've heard from folks old enough to be our grandparents while standing in line at Solful.
Products continue to evolve because of legalization. New products mean that people who don't want to or can't smoke flowers can take in or enjoy cannabis in other ways. Because let's face it; there is a time and place for smoking joints and, when you're down with a cold or in the midst of fire season and the air is already thick with smoke, you might be looking for an alternative form of cannabis.
Today, you can find patches, tinctures, oils, lotions, drinks, candies, chocolates and more. The industry has exploded and continues to evolve with creativity, ingenuity and beneficial goodies.
Indica, sativa or hybrid?
It can sometimes feel daunting being at a dispensary or looking at a dispensary website and seeing the oodles of products. There really is a lot to look at.
If you don't know where to start, consider giving the dispensary a call. Many local dispensaries have staff on hand who are willing, able and very excited to walk you through the process of what you're looking for. After all, everybody's cannabis need is different.
Understanding the differences between indicas, sativas and hybrid flowers will give you a leg up on and make you feel a bit more comfortable as you navigate websites and dispensaries.
Indica strains
Indica strains come from plants that are stout and broad-leaf. Most cannabis users hear "indica" and think "sleepy and relaxed." While this is usually true, the ability to crossbreed plants has enabled farmers to create new strains with different effects (see hybrids strands). Consumers often describe indica strains as giving full-body effects, such as heavy limbs, tingy face and full relaxation. These strains are often good nighttime strains for people struggling with insomnia. Popular indica strains include: