Which wine goes with the wind? A review of Petaluma Gap Pinots
The Gap: Where a cool breeze blows in Petaluma
Want the in-depth wine review? Flip through the photo slideshow for specific tasting notes, tones and more.
History
Some 50 years ago, an unknown winery from a new land entered a competitive tasting in Paris of over 300 of the best known Pinot Noirs from Burgundy and around the world. The new winery came in 10th out of the 300, surrounded by the most expensive Burgundy's, shocking the wine world.
Oregon Pinot Noir and David Lett's Eyrie Vineyards were on the map an achievement rivaling Stag's Leap Cabernet and Chateau Montelena Chardonnay of the same era, though its a lesser known story around here.
Some 20 years ago, I got to talk to David Lett about his achievement.
His theory, that Pinot Noir is best as an 'upsidedown' wine compared to California's dominant thinking. Our challenge here is to find the coolest sites to slowly ripen Pinot Noir in a generally too hot environment, like the fog shrouded Russian River area. In Oregon and Burgundy, the best plots are the warmest sites in the generally too-cool climate.
When the vine is stressed at the end of the growing season Lett postulated, all of the vine's life-force goes towards reproduction in the grapes before shutting down, adding nuances and finished wine. Pinot noir needs a long depth of flavor to the "hang-time" to reach its' sublime heights.
As the world's climate has changed over the last 50 years, the winegrowing adventure has been altered and sites deemed too cool to ripen Pinot Noir are opening up right before our eyes.
Mind the Gap
Enter Sonoma County's newest appellation, the Petaluma Gap, just three years old. These windswept rolling hills, deep soils, and very cold ocean breezes are now the Pinot world's focal point. Our undulating pastureland is now some of the worlds hottest, I mean coolest, vineyard land.
Historically called 'the velvet glove,' the best Pinot Noir's carry a seductively smooth texture along with a gorgeous berry/cherry/tree fruit tone and bright acidity and long finish. One doesn't search for tannic power in a Pinot noir. One is beguiled by nuance and colors when the wine is made to heart. That nuance of flavor is why connoisseurs the world over are enthralled by Pinot Noir's charm.
These are still the very early days of the Petaluma Gap adventure. Like all new appellations, there are pioneers willing to risk valuable land and fortunes to try out wine grapes in new land.
Our local pioneers are just starting to carve out a legacy that is still unwritten. The cool morning fog and chilly windswept afternoons temper these hardy farmers. The Gap's winegrowers are some of the toughest that Sonoma County has to offer. All are participating in a worldwide search for the elusive exacting climate that will produce the "velvet texture" of the ever beguiling Pinot Noir.
The review
Here's our review of Petaluma Gap's current Pinot Noir releases. There were 12 bottles in our tasting. They formed three distinct tasting profiles, focused on smoother textures, earthier subflavors and aromas, and more structural acidity for aging. Consequently, there was some controversy amongst the tasting panel about any particular wine's quality. Still, among that uncovered framework, some favorites and themes emerges. We adored ALL the wines. They are uniformly spectacular. The region's themes rotate around bold assertive dark cherry, berry and some plum tones, bright but not overbearing acidity and a gorgeous depth of flavors. These are simply delicious wines — All Of Them! The listing above reflects a group ranking. The statistical variation amongst the last 8 wines wasn't significant.
Dutton Goldfield 2018 Azaya Ranch Vineyard
Barber Cellers 2019 Gray Haven
Adobe Road 2018 Griffin's Lair
Bruliam 2018 Gap's Crown Vineyard
Adobe Road 2018 Gap's Crown
Gust 2017 Petaluma Gap
Adobe Road 2018 Sangiacomo Vineyards Roberts Road
Tie. Keller Estate 2018 El Coro
Tie. Pfendler 2019 Estate
Ernest 2018 Grand Vent Vineyard
Bruliam 2018 Sangiacomo Robert's Road
Thirty Seven. 2018 Petaluma Gap.
Petaluma Gap Pinot Noir is the hot ticket, folks. Go for it.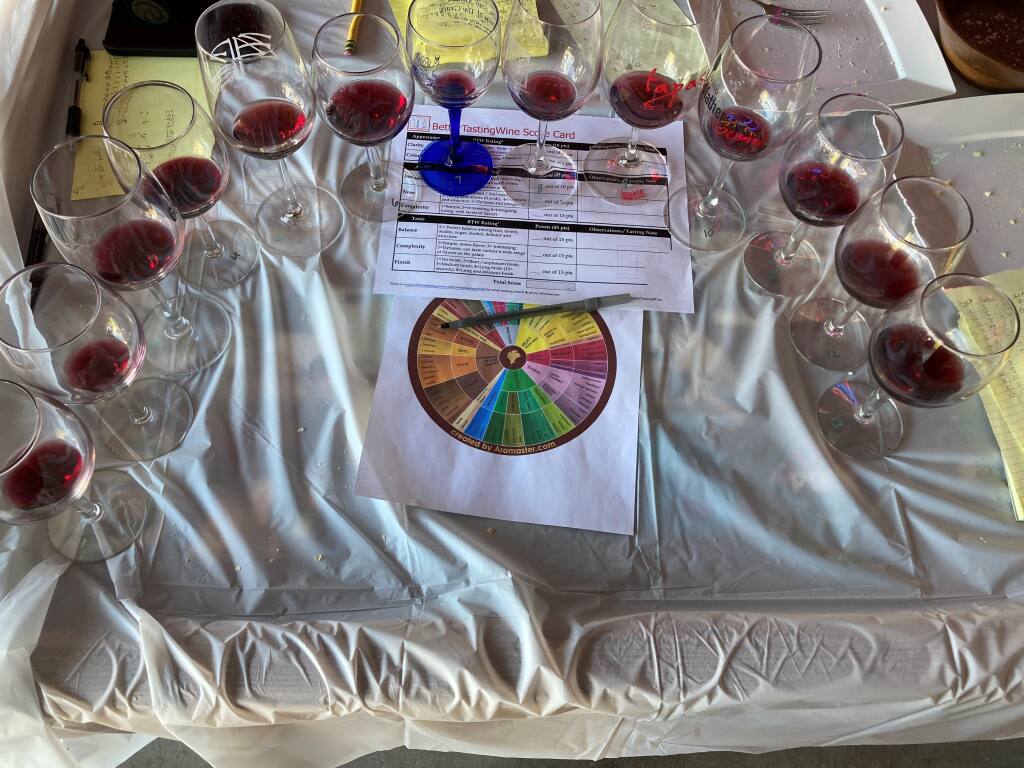 Tasting Panel
Peter Posert, Andrew Posert, Mandy Masciarelli, Anne Kopache, Mara Walls, Cara Jean Robertson