SoCo Mask-Makers
Seamstresses went to work when COVID hit, sewing masks for people when there were no N95s left for healthcare workers. The rest of us could have a 3-layer cotton mask with a carbon filter pocket.
For most, wearing a mask, sanitizing hands, limiting personal contact, settling into our pod, are all ways to stay healthy amid the pandemic. The most common items we need are pocket hand-sanitizer and plenty of masks so we can wash and reuse them.
It's become an art-form for some! Fabric choices, seasonal patterns, personal color preferences...it's a way to express who you are while you protect yourself and others. With so many mask options, and so many places we find them in stores, we can own plenty, wash them every time we use them, and change colors with our clothing.
I found vintage pins at Gin'Gilli's in Geyserville to dress up my masks. These things are going to be around for a while, we might as well have fun with them.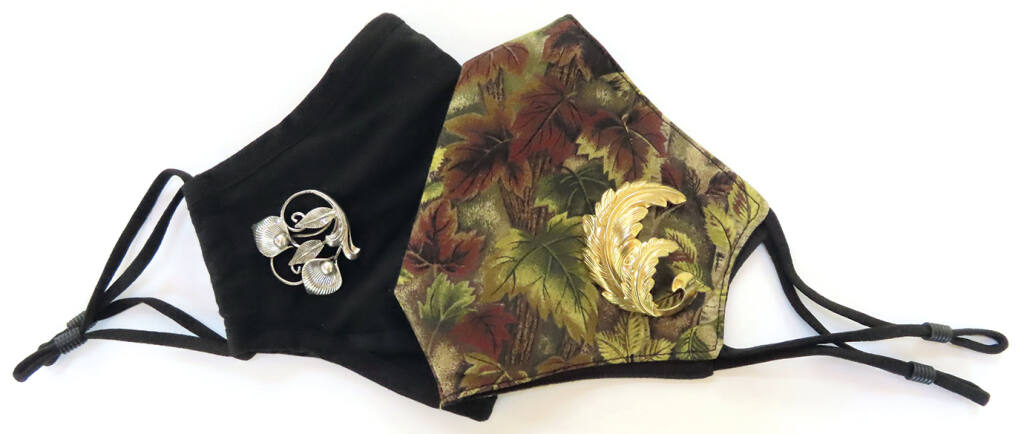 Have you noticed that people are beginning to find it easy to tell when someone is smiling and recognize people in spite of having half our faces under cover?
We're adapting, as humans do.
So let's have some fun. Here are a local mask-makers you can purchase from directly or find hand-made masks where you shop.
Tammy Twostep
Cotati
707-483-7749
Tammy_twostep@hotmail.com
Toddler, youth and adult sizes $5-$8

Mtz Rosa
Petaluma
707-490-9520
$10.00 each. They have 3 layers and the wire for the nose adjustment

Dena Childress
Petaluma
$5 each
Text to order and details: 707-365-9492

The Kind King Clothing
Petaluma
kindkingclothing.com/mask/
$15-20

Eva Covarrubias
WhatsApp 707 7664105
facebook.com/eva.covarrubias.73
Petaluma
Adults and kids - With filter pocket $6 adults $5 kids

Made Local Marketplace
Santa Rosa
707-583-7667
info@madelocalmarketplace.com
529 4th St., Santa Rosa
facebook.com/MadeLocal/
ORDER ONLINE: madelocalmarketplace.com/

Dakota Hidas
Santa Rosa
dhidas13@yahoo.com
$5-$10 masks for men and women

Masks of Sonoma County (Noemi Hernandez)
Santa Rosa
Gnoemi.92@gmail.com
facebook.com/groups/465593127467823/?ref=share
$8 -12 Mailing flat fee $5

Sara Ka
Santa Rosa
707-353-6146
Anhtrang0486@yahoo.com
5$/each

Kaitlyn Wetterau
Sebastopol
Kaitlynwetterau@gmail.com
facebook.com/kaitlyn.wetterau/
$4

Buddy's Farm Sonoma County
Gerald Leuschen and Family
Sebastopol
Buddysfarmsonomacounty@gmail.com
Fabric selection changes and I make them to order. I also have individually wrapped from the manufacturer masks available. All masks are cotton with ear loops. Machine washable. $15 for handmade Men, women and childre

Courtney Duffy Morgan
Sonoma
Order on Etsy
facebook.com/courteney.duffymorgan
courteneyduffy@hotmail.com
Different style mask. It uses darts in chin and nose and fabric bindings for a good snug fit and comfort (no pain on ears). It takes longer to sew , about 1.5 hrs each, so I am having to charge $20 each for some of my time and Materials. $10+

Crystal Blanton
Rohnert Park
707-569-6239
Crysblanton@aol.com
facebook.com/crysblanton

Lela Harris - Lela's Craft Center
Rohnert Park
lelascraftcorner@pizzaantica.com
etsy.me/2Xo4WUV

Patsy Chan
Rohnert Park
Stitched2last@yahoo.com
facebook.com/Stitched2Last-181827421830095/
3/$25. All made to order with around the ear elastic, ties, or around the head. Small medium and large. Men women's & kids. Soon at Stitched2last.com

Glitter Vintage Style
Leslie Gibson
Rohnert Park (also shipping)
glittervintagestyle@gmail.com
facebook.com/lesliemcgallian/
etsy.com/people/lesliemmgibson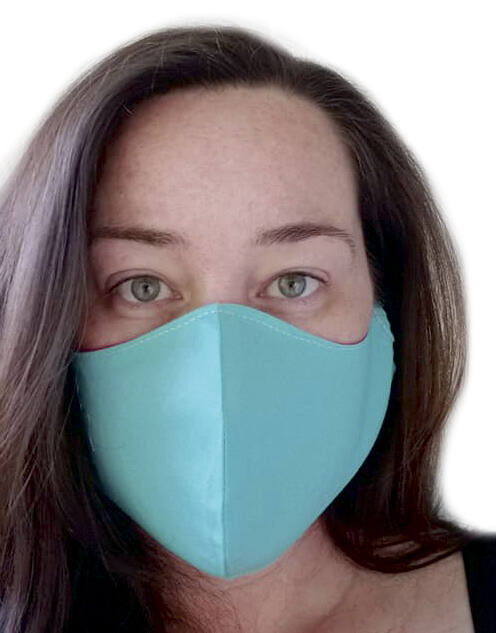 Soledad Carranza Nuñez
Windsor
707-328-4309
17soli@comcast.net
$5 single layer, $10 double layer. I make men's, women's, and children's
facebook.com/soledad.nunez.10

Tami Lee Frizzell
Re-useable-reversible - hand made. $7+
Windsor
facebook.com/tamileefrizzell
ONLINE @ anfrimarche.com

Amy Erickson
Original Hand-Painted Silk Masks, Art and More
Santa Rosa
https://www.etsy.com/shop/AEWhimsy