Farewell Elaine our Santa Rosa Columnist, visit SR Street art with Leslie Graves
Santa Rosa Snippets
Santa Rosa Columnist Elaine Holtz says goodbye in her final column while Leslie Graves takes the pen and shows the community the inside happenings of Santa Rosa.
Discover Art in Downtown Santa Rosa – Leslie Graves
Visiting public art in and around Downtown Santa Rosa is a great way to enjoy an afternoon solo or with family and friends while remaining socially distant. Almost in every direction you look, existing public art pieces and new installations are creating a smorgasbord of designs, colors, and mediums for you to see and your soul to feast on. Some of the new installations are a part of the Open & Out program which has been extended to January 31, 2021*. There are more than a dozen art installations as part of the program, below is a bit about a few of them.
"A Tapestry of Our People: Social Justice on the Street" by SCAPE: Sonoma County Artists Propelling Equity and Sonoma County Monarch Project led by Rima Makaryan is located outside of Beer Barron with street murals & paintings attached to the outdoor dining walls. Colorful circles with symbols fill the street and local activists are depicted in the paintings. Find a guide to the symbols by visiting @socomonarchproject
The "United States Portal Service" is interactive art. This golden mailbox, located in Courthouse Square, is open to receive your questions, grievances and love notes to the future or the past. There's a portal team of professionals led by artist Jessica Yoshiko Rasmussen who collect the deposited notes and write back, posting the original note and responses on Instagram @United.States.Portal.Service and, mailing back responses if you include a return address.
Phoenix Rising by Nathan Gomez @Nato_Gomez88 outside of Perch + Plow and a colorful piece, Ollins, by Martin Zuniga and a group of young artists are both in Courthouse Square. Learn more about all the pieces, artists who created them and find a map for an art walk by visiting www.openandoutsr.com/art
Venture down Mendocino Avenue to pause at the Press Democrat Building to view the 2002 wall mural of "50 Who Shaped Sonoma County," an ArtStart project by Mario Uribe and many others. This depiction of local leaders of the 20th Century lays in contrast to the bright future depicted just down the street outside of Three Disciples Brewery. "The Trinity Mural" also by Sonoma County Monarch Project is three larger than life murals depicting Sonoma County activists: Rose Hammock, Joy Adodele, and Bernice Espinoza who are among today's social justice and equity leaders. Three cheers to those who had a hand in creating this prominent mural, solely celebrating Black, Indigenous, and People of Color!
Around the corner down 7th Street visit the Museum of Sonoma County's outdoor Sculpture Garden free to enjoy 10 am – 1pm Thursday – Sunday.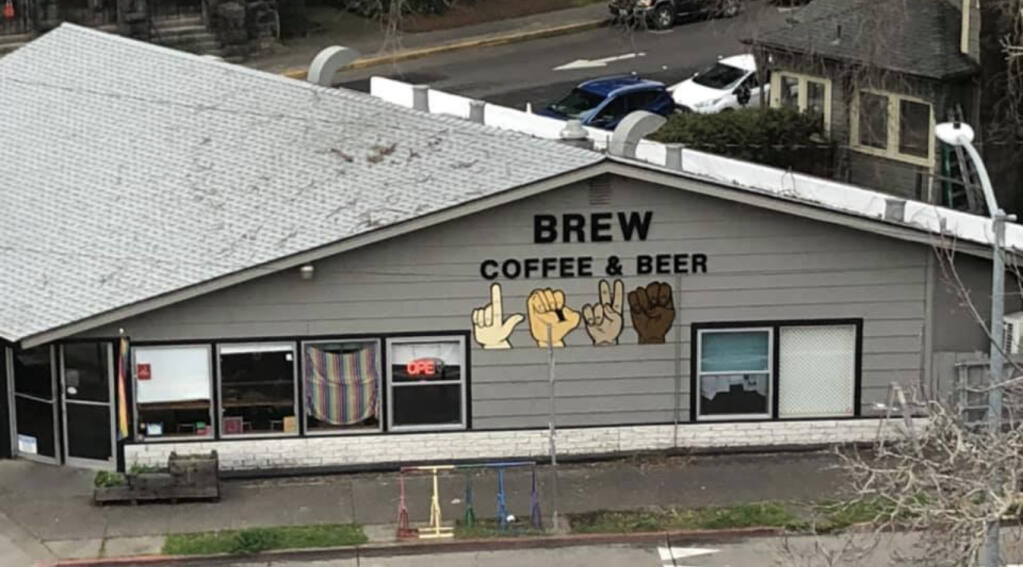 From there head up Healdsburg Ave where you will find "LOVE" by Zack Rhodes @solditfor50, giant hands in American Sign Language spell out L-O-V-E on the wall of BREW, a fun welcoming space that serves up coffee, beer, and good eats with a side of lots of love for everyone. For the best view of Zack's "LOVE" take your order "to go" to the top of the 7th Street Parking Garage across the street.
Before getting a bird's eye view, try to spot the work of The Velvet Bandit. Look for RBG wearing an "All Rise" mask and a blue Honest Abe wearing a "Vote" mask. The Velvet Bandit's wheat paste art can be found all over Santa Rosa and Sonoma County. The anonymous bandit now has more than 600 individually painted pieces of street art throughout the county. They are put up under the cover of night to the delight of those looking for new ones to spot each day. Many of them have clever sayings that capture our time, like a recently spotted cup that read "2020 NOT MY CUP OF TEA."
Viewing public art in downtown is not complete without a visit to what locals refer to as "The Hand" outside the Mall on B Street. Now more than ever, visiting this piece can be a conversation starter about how art plays a pivotal role in how we see and interact with our world differently through time. Larry Kirkland, used Carrara marble to create his Algraria Sculpture in 1996 and he intended his work to represent the thousands of settlers, farmers, men, women and children who have worked the rich soil of our area. Recently, the whiteness of his medium has been a whitewashing of the history of Indigenous people who originally inhabited this land as well as the constant omission of people of color from recorded history. Over the past few months and on separate occasions, the hand was covered in black paint and then tagged with the names of those who were killed by police – only to be power washed by the mall management. If it is true that idle hands are more apt to cause or get into trouble, maybe the bit of color that is now worn into the hand's crevices and pores means it is currently keeping busy with the work of questioning how things have always been and spurring on meaningful conversations that may lead to change. Continue reading below.