Same as it ever was in Santa Rosa
Really, everything is the same as it ever was, but… just a little bit different. When the pandemic first came to Sonoma County, it brought a new set of behaviors and expectations for how we — as a community — could work together to beat this virus. It was all different, at first — there were curfews, and masks, businesses that shut down, and delivery services that opened; here we are 17 months after COVID-19 gained pandemic status in March 2020 and really, looks like it's gonna be here awhile. Here's how I've noticed this year-and-a-half has absolutely changed my view of what's now 'normal,' and how I see it all throughout Santa Rosa…
Masks. I have masks in every pocket, bag, drawer, and random hiding place. Walking out the front door used to consist of a checklist of keys, glasses, wallet. Now, without a second thought, it's mask, keys, glasses, wallet.
Eating out. I'm so very happy that restaurants are back in business! What I consider now before going out is just a bit different: Do they have outdoor seating? It's no longer about not wanting to bother other diners with my rambunctious kids, it's more about not wanting to bother with being around other diners…at all. My new normal is being aware of how close people are to me, and how many times they sneeze. Luckily, delivery services are booming, and outdoor areas have been added thanks to main streets being closed and sidewalks getting re-appropriated.
Delivery for essentials. I've always been an Amazon fan, but now delivery has expanded into everything local – groceries, meals, alcohol, even sundries from 7-11. It's been a lifeline for businesses that had to close their doors during lockdown, and luckily for lots of us, it looks like this option will stay.
There's more I could add to this, but I've already bored myself with this prattling…let's talk about what's good, Santa Rosa!
What's good for kids in September?
2 ½ weeks into the school year, and so far, so good. The kids all seem to have no issue with wearing masks; this is their new normal, and they're champs. What I'm getting used to is the morning traffic again – I had my very first, ever, car accident when I changed lanes into someone's truck (who was also in a hurry!) leaving me with the hope that the newer new normal can be that we all can get used to being out and about with each other soon. The roads are back to busy around the schools, so it's best for the kids if we all keep this in mind, slow down, and keep an eye on the crosswalks and bus stops.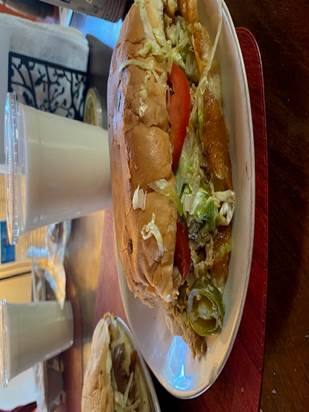 Oh! You mean what's good to take the kids to do! How about the downtown End of Summer Block Party - Saturday, Sept. 18, noon to 4 p.m.
Downtown wants you to know "We're ending the summer with a bang! On Saturday, Sept. 18 from noon to 4 p.m., we'll be hosting a community wide Block Party. We'll be bringing in musicians, entertainers, activities for kids, a Maker Market and more! Activities will take place on Courthouse Square and on the 500 and 600 Blocks of 4th Street, which will be closed to vehicular traffic."
No traffic and activities I don't have to set up? Count me in!
What's good for the adults in September?
It's been an exciting summer, so let's keep September low-key. Get your art connoisseur glasses on and come to the Art Trails "Meet the Artist's" Kick-Off reception at Corricks, Friday, Sept. 3 from 5 to 7 p.m. Corrick's is located at 637 4th St, Santa Rosa, CA 95404. Some of the artists will be there at the store to mingle in person, and dozens of new works will be on display.
Within easy walking distance to the downtown Russian River Brewery, take your friends and talk about the favorite work of art you saw, and still get home in time to give the babysitter a break for her 9 p.m. date. This outing is a win all around.
What should I get for dinner?
Let's talk tortas! You can even take advantage of delivery services for some of the best tortas I've ever had, with cold horchata as an add-on, delivered right to my door. I went outside my usual downtown bubble and gave El Paisa Tacos on Sebastopol Road a try. Here's the deal: It's a food truck, but one that's parked and set up with an outdoor dining area and they'll take your postmates.com, ubereats.com, trycaviar.com, grubhub.com, doordash.com, or seamless.com order! I had a Pollo La Sabrosita Torta, got a Carnitas one for my husband along with some horchata to wash it down, and everything delicious. It should be noted that these sandwiches are enormous, so make sure you have an appetite – or are ready for some tasty leftovers.
Tacos El Paisa is located at 1175 Sebastopol Rd, Santa Rosa, CA 95407, phone: (707) 721-9847, and the hours are;
Wednesday 11 am – 9 pm
Thursday 11 am – 9 pm
Friday 11 am – 9 pm
Saturday 11 am – 9 pm
Sunday 11:30 am - 7 pm
Monday Closed
Tuesday 11 am – 9 pm
Before I sign off, no matter how much I don't want to talk about it - the other thing that's become the new normal for us is fire. There's already too many right now for my comfort, and I'm sure for everyone else as well – but I do know my evacuation zones. As usual, keep that evacuation bag ready, keep your phone charged, and stay safe.