Running toward the past at Grossman's Deli in downtown Santa Rosa, Railroad Square
Excitement builds as you start the walk towards the front door of the restaurant. Maybe you are getting out of your car and you notice your anticipation just a bit. Maybe your tummy is growling and you're just thinking about a quick meal. Maybe you are out shopping for the holidays and a great meal is part of the big day. Maybe you're going to meet your friends and you're happy. The moment you open the door the smells, sounds and sights can be a thrilling part of the dining out experience. Heading to the new Grossman's Noshery & Bar in Railroad Square would get anyone's heart pumping and spirits rising.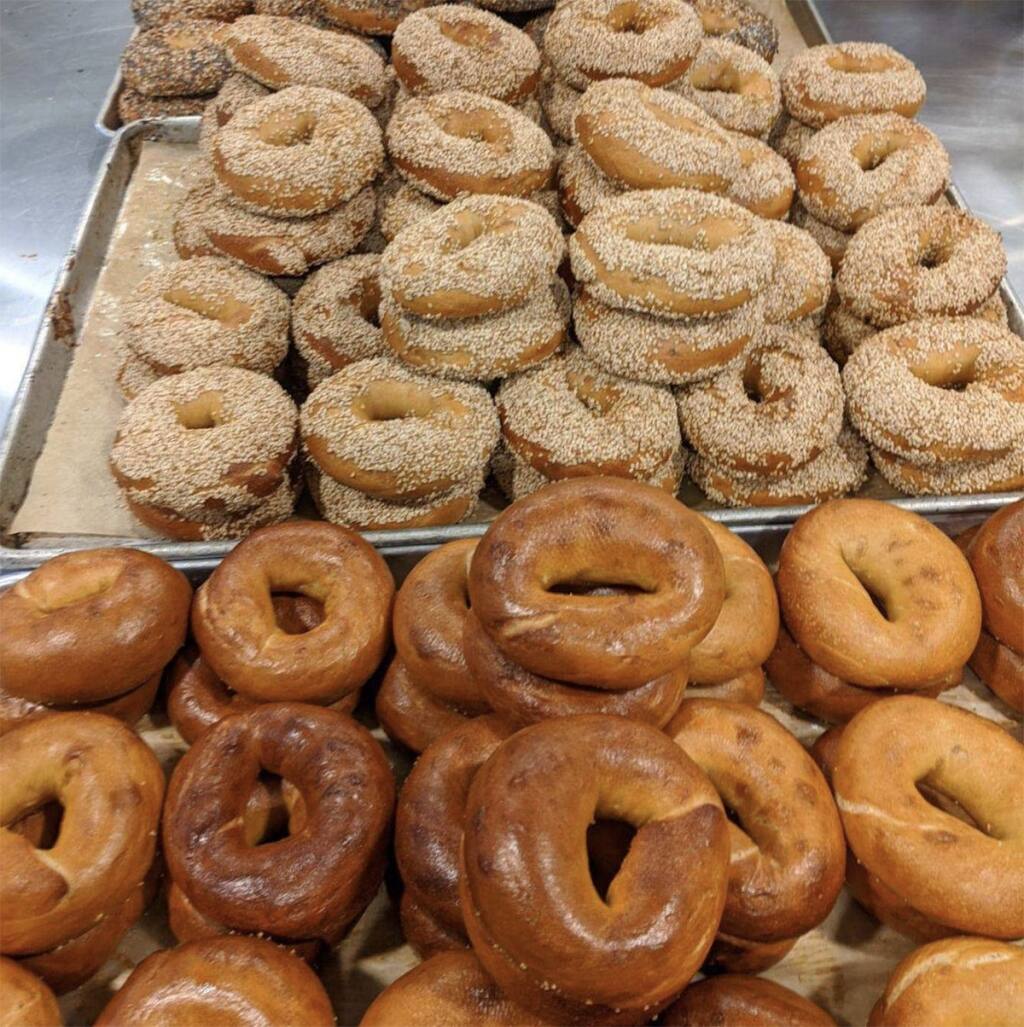 The regular walks from where you've been to the front door of where you are going occur constantly and all the time but sometimes, both walks towards the kitchen and walks with intention towards great cuisine destinations can become renown if you are curious about what's cookin.' The 4 blocks in Epernay between Moet and Mercier is epic. Galatoire's to Lafitte's Blacksmith for a nightcap in NOLA is always one giant laughing fit. One walk, the shortest one, is apropos of Grossman's Noshery.
Words spring forth from the menu like rune from an olden world, filtered through millennia of harsh times; grabbing life's precious mementos and fleeing the inquisitions and pogroms (an image we know too well around here), of crawling in mud and stooped poverty picking up beets and cabbage in a frozen land, the long crossing, Ellis Island and the crushing tenements of the ghetto. Schmeer on a bagel, latke, knishes and kreplach are all fantastical dishes waiting to be discovered at Grossman's if you don't know what they are. Kippered fish and challah bread pudding are on the menu too. Schmaltz is everywhere it's supposed to be.
Start with a nod to the springtime pride of the jewish ghetto in Rome 'carciofi alla giudia' or jewish artichokes (deep fried artichoke hearts). At Grossman's the huge pile of tasty morsels are served with a middle eastern twist. Dusted with a lively sumac the flavors proudly galavant away from the heavy, greasy, batter-laden platters found in California's Castroville straight towards the heart of Samaria. Herein lies the genius of Grossman's. In presenting this Jewish fare, Chef has un-apologetically taken on the cuisine staples of both the Mediterranean and Northern European traditions, and seemingly the whole jewish diaspora, all at once. What a revelation to behold!
The flavors of the Kreplach dumplings run deep. It's a slow roux at work in the gravy. Served with jewish cracklings called gribenes, this is an outstanding dish any time of the day.
Corned Beef Croquettes ooze warm deliciousness out of the crunchy crust. When the waitstaff sashay over with a plate of warm Croquettes, they smile for you too.
Matzoh Ball soup is the real deal. The eternal question (hard or soft?) has finally been resolved. The correct answer is … Grossman's! When the broth is this good, the rest doesn't seem to matter. You can't rush in the door, get seated and order this dish fast enough on a cold winter's day. You'll want to slow down with this soup when it arrives, though.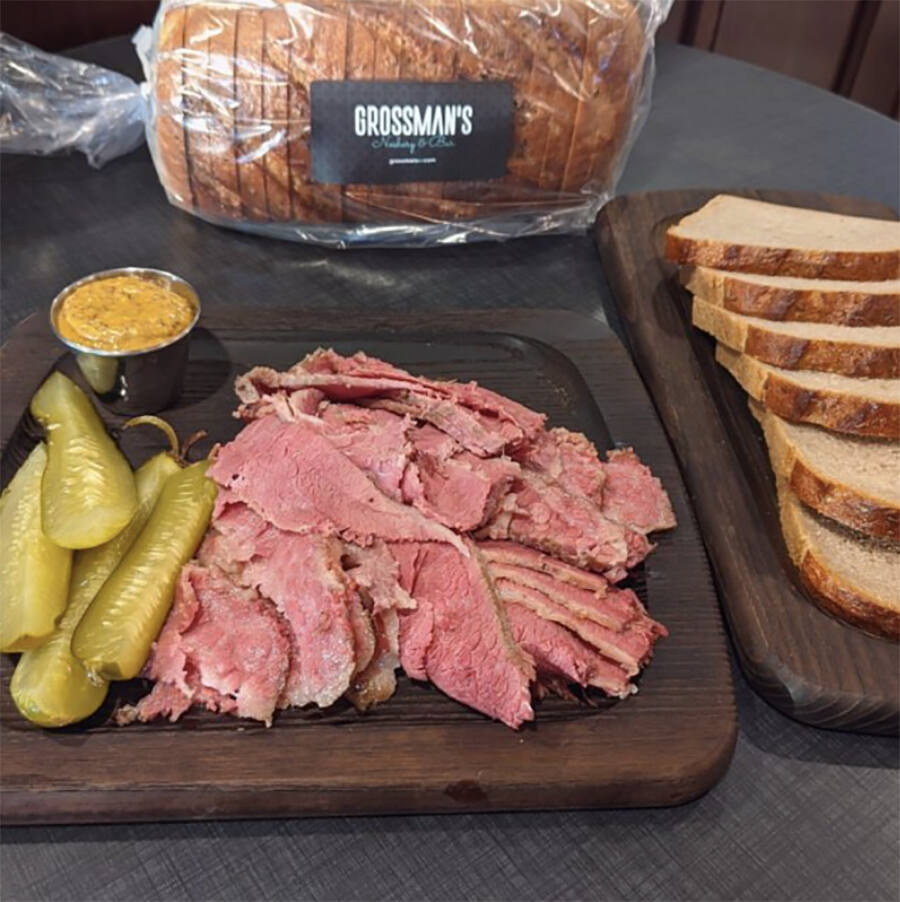 The Rueben Sandwich. When a pastrami is smoked to perfection, the whole world just tastes better. Grossman's Rueben is so succulent, moist and delicious, you just want to share it with your friends. The key with a smoked pastrami is a deft touch - too much smoke and you lose a popular appeal but a little whiff of charred wood it's better. Grossman's pastrami, like a great local Chardonnay aged in toasted French barrels, carries a similar sweet flavor of smoked wood that ambles down into our subconscious minds. We think of this mild toasted flavor as "being home." I just can't stop munching on Grossman's rueben sandwiches, they are that good.
The challah bread pudding is a sublime finish. That light jewish bread creates dessert that is warm, soothing, sweet and just an amazing dish to behold. Jaunt on over just for kicks if you have the notion for a sweet pick-me-up anytime.
There is more to Grossman's Knoshery and Bar to come, I'm sure. As we stumble our way past this pandemic and start sprinting back into our harried brave new world lives, Grossman's is carrying with it a serious and wonderful nod to a past world of slow cooked foods and a specific deeply flavored cuisine tradition that has defied time and place. With that reference point, you won't get lost trying to find the place. All local food walks in around the mall and the Smart Train's downtown stop should be heading straight towards Grossman's Knoshery and Bar in the Hotel La Rose in old Santa Rosa this holiday season.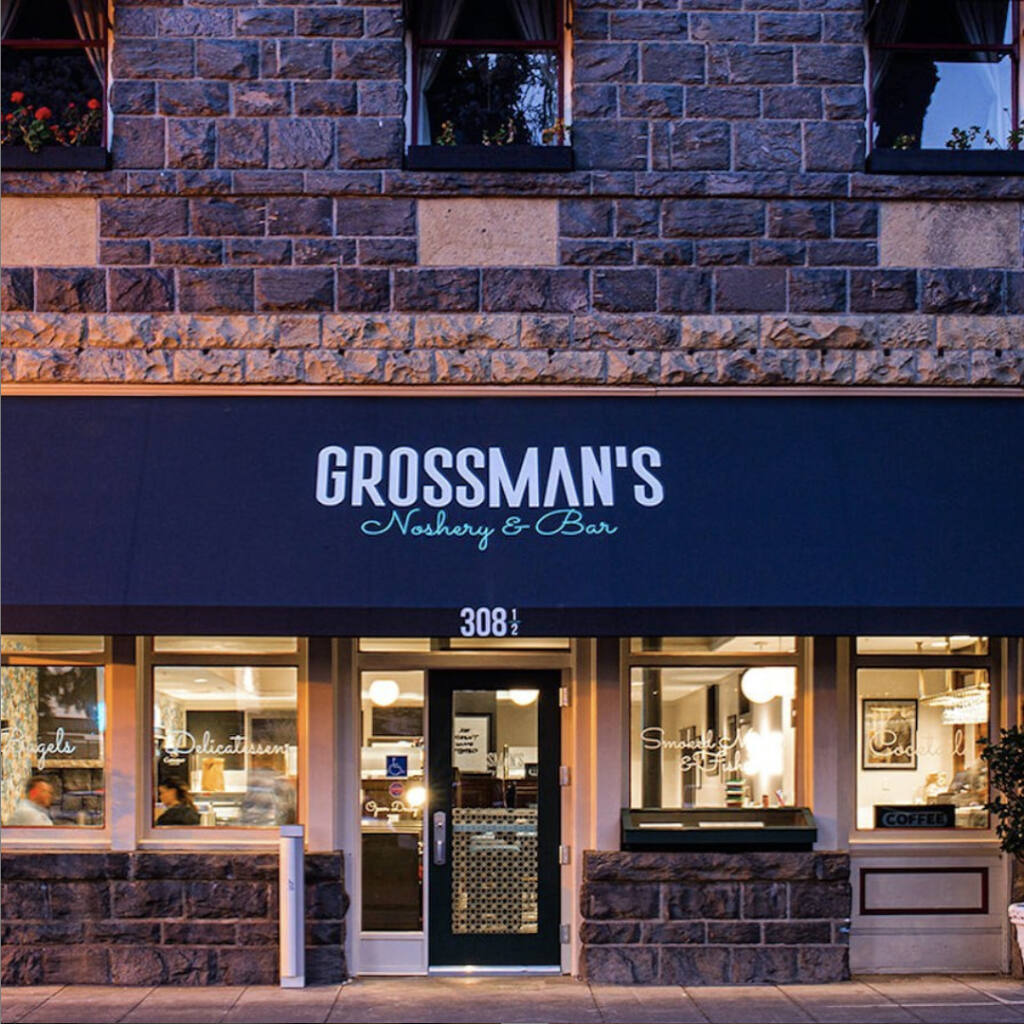 .