Pilot project brings back glass bottle refills in Sonoma and Marin counties
This holiday season Sonoma and Marin County retailers and beer lovers will have an opportunity to participate in an ambitious project to help bring a refillable glass marketplace back to the US. The pilot, "Refill My Beer" (www.refill-my-beer.com), is a joint project between Northern California start-up Conscious Container, Anheuser-Busch, and Santa Rosa-based Eagle Distributing.
The pilot plans to distribute and collect 16,000 specially labeled bottles of Michelob ULTRA™ Pure Gold Organic Lager and Elysian Space Dust IPA. The collected bottles will then be washed, inspected. Those that meet the stringent quality standards making them as clean as new will be refilled and recirculated in participating retailers across several states. Retailers selling beer in the refillable bottle pilot include major grocery stores like Whole Foods, Safeway and Target, along with Wilibee's Wine & Spirits in Santa Rosa and Petaluma, and several other independent retailers along the Highway 101 corridor in Sonoma and Marin Counties.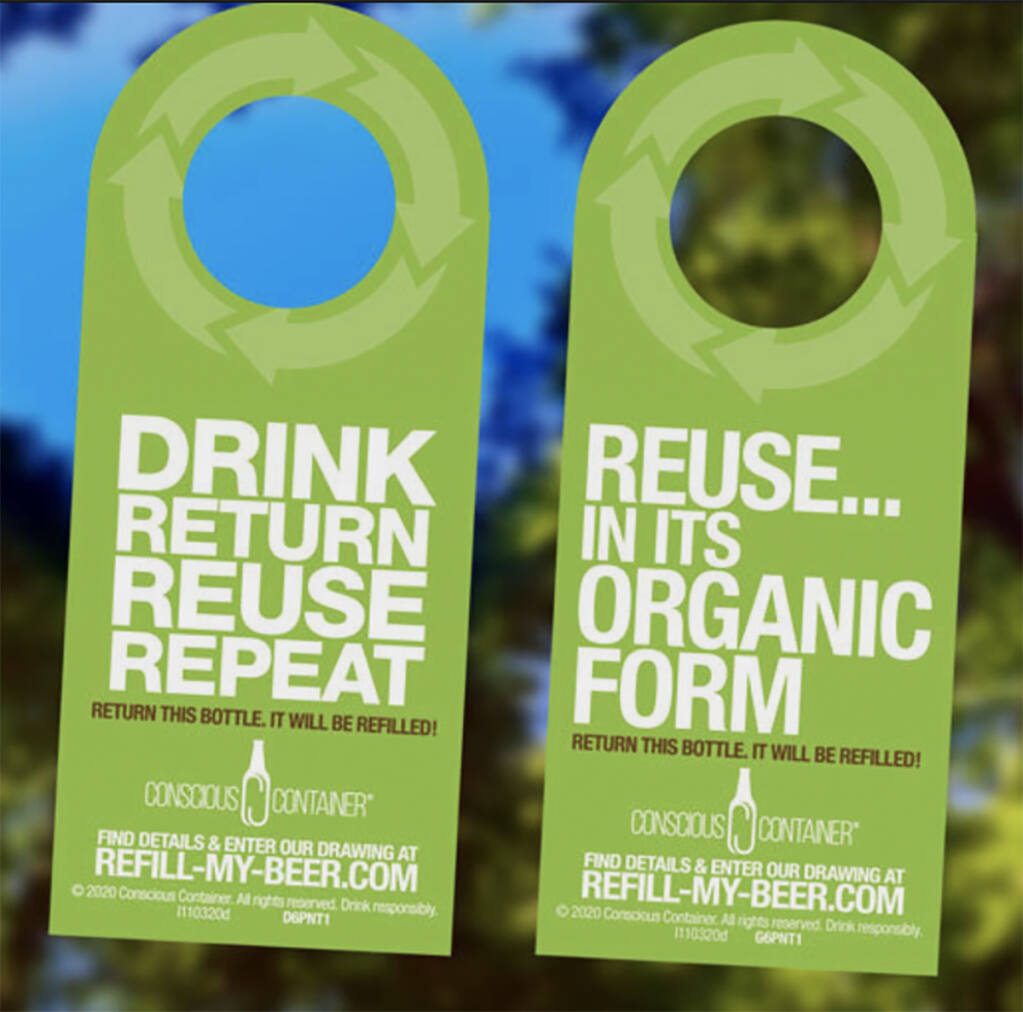 Consumers who purchase participating brands simply return the empty bottles to Conscious Container's touch-free bins located in one of seven participating locations in Sonoma and Marin County listed on bottle neck tags and on the Refill my Beer website map (see below). Consumers will then be guided to fill out a quick and easy survey to gain feedback on refillable packaging and brands. As an additional incentive, survey respondents may opt-in to a weekly drawing for $500.
Three out of four glass bottles purchased in the US end up in landfill or are otherwise not recycled or reused. In 2018, 7.6 million tons of glass containers were landfilled, accounting for 5.2% of all municipal waste streams (Source: https://www.epa.gov/facts-and-figures-about-materials-waste-and-recycling/glass-material-specific-data). Conscious Container partners with the wine, beer, and non-alcohol beverage industries to collectively reduce the environmental impact of a single-use glass bottle while lowering the overall cost of that glass bottle through refilling and reuse.

Conscious Container has proven its glass bottle collection pilots across Northern California and Northern Nevada working with small craft breweries. The partnership with Anheuser-Busch through its 100+ Sustainability Accelerator program is the start-up's first project with a major company. Conscious Container's mission dovetails with Anheuser-Busch's commitment to ensuring that 100% of their packaging will be made from majority recycled content or will be returnable by 2025. To better serve its growing North Bay network, Conscious Container plans to stand-up a bottle-washing facility in Cloverdale in the near future.
Touch-free drop-off locations: Wilibees Wine & Spirits in Santa Rosa and Petaluma, Campus Market in Santa Rosa, Dahlia & Sage in Cloverdale, A&L Market in Cotati, Novato U Save Liquors, and Bret Harte Supermarket in San Rafael. More information about the project and Conscious Container may be found at www.consciouscontainer.com.