Five years in the making, Caritas Village to break ground Jan. 15, 2021
On Jan. 15 at 3:00 p.m. PST, Catholic Charities will host a virtual groundbreaking to kick off the construction of Caritas Village. This free online program will feature community leaders including Congressman Mike Thompson, Senator Mike McGuire, Vic Trione, and other guests.
The public is invited to the Virtual Groundbreaking:
Time: January 15, 2021 | 3:00pm
Location: Online - check your email at 3:00!
RSVP: CLICK HERE
"I have had the honor of supporting Catholic Charities for years, but nothing has inspired me more than Caritas Village. This is the answer to homelessness we have been seeking," says campaign co-chair Vic Trione.
Caritas Village, a partnership alongside Burbank Housing and Santa Rosa Community Health, is the most comprehensive effort to address homelessness in Sonoma County's history. It will replace existing Catholic Charities facilities here in downtown Santa Rosa with a three-story, 46,000 square foot service center. In addition, 128 affordable apartments will be built and managed by Burbank Housing.
The service center, called Caritas Center, will include:
An emergency shelter for families experiencing homelessness
A childcare and after-school program for children living in the shelter
A medical recuperation shelter for homeless people leaving the hospital who need bed rest
A medical clinic that will provide physical and mental health services
A dignity center for showers, laundry, mail, phones, and community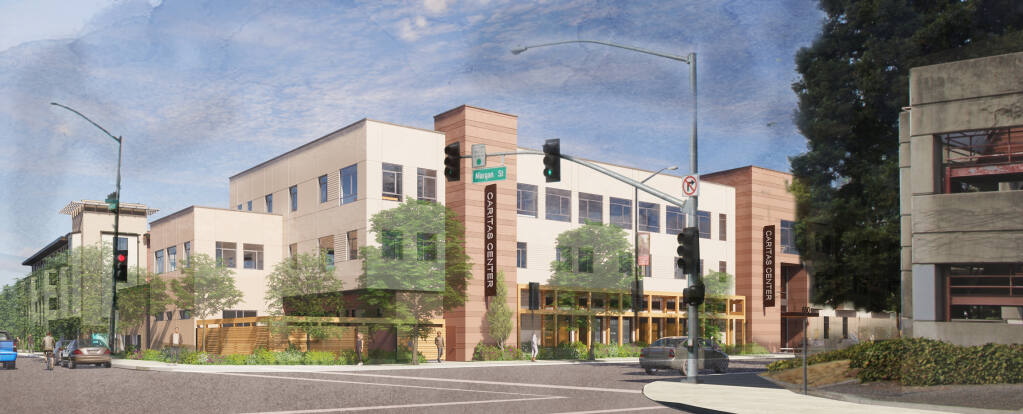 Each of these services focuses on the primary goal of finding permanent housing for individuals and families experiencing homelessness. The complex challenges created by COVID-19, including a struggling economy, risk sending more families than ever into homelessness. Caritas Village's multifaceted approach to housing solutions ensures more families will find and keep housing.
Caritas Village was officially approved for construction by the City of Santa Rosa on August 6, 2020. Wright Contracting will begin building in March of 2021. Construction for Caritas Center is scheduled for completion in mid-2022.
"I continue to be grateful and humbled by the community's support for Caritas Village, which will be a source of hope touching so many lives. The word 'caritas' means "unconditional love for all," and that is exactly what we have seen from compassionate community members," says Chief Executive Officer Len Marabella.
Catholic Charities continues to seek funds to reach the $45 million needed to build Caritas Center. Community gifts of all sizes are welcome and needed to get the project across the finish line. Special naming and dedication opportunities are available for gifts of $1,000 and above.
RSVP for the Virtual Groundbreaking: www.caritas-village.org/groundbreaking/2021/1/15/groundbreaking-kickoff
Donations can be made at www.caritas-village.org/donate