Coming Home After the Fire - Assessing the Damage
It's still in the early stages of assessing damage from the LNU Lightning Walbridge and Myers Fire in Sonoma County. At this point, Friday evening August 28, not all evacuation zones have been released for homecoming. A collective sigh of relief can be felt across social media where people share news and emotions.
Proudly stated by fire officials, 253 residences were NOT harmed in an area where there are very few homes because the terrain is so remote and challenging. there is availble now an LNU Lightning Complex Structure Damage Status Map.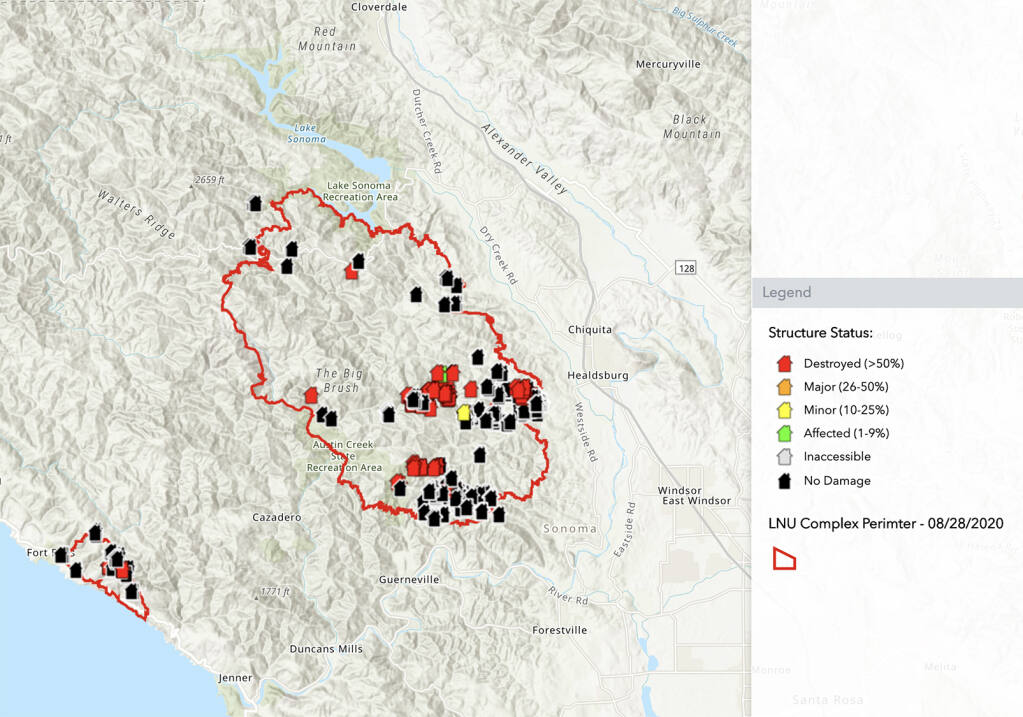 Stay in touch with updates since this has just begun so within hours anything I write will no longer be valid: https://www.arcgis.com/apps/webappviewer/index.html?id=6a1823bffcab4abe98d2538f503aa876&extent=-13751968.7891%2C4614728.0846%2C-13517154.2382%2C4718988.1912%2C102100
The county is conducting a SURVEY to learn what went right and what went wrong so they can assess how to do it better in the future.
___________________________________________________________________Help us help you - Take the survey: The LNU Complex Fire began August 17, 2020 and disrupted communities across California. In this survey, Sonoma County asks residents to share their experiences and help us improve our ability to respond to disasters.
Ayúdenos a ayudarte: tome la encuesta: El incendio LNU Complex empezo el 17 de agosto del 2020 y interrumpió la vida de los residentes de California. En esta encuesta, el Condado de Sonoma le pide a los residentes compartir sus experiencias y ayúdenos a mejorar nuestra capacidad para responder a los desastres.
____________________________________________________________________
There have definitely been lessons-learned and most people would say, it's better, but still needs improvement.
Nixle alerts (https://local.nixle.com/alert/8211966/?fbclid=IwAR3uOWeIKuyWv9wHLtDVX6gAaYT_NKB70hCkfA3qp0KWRmsge3nZ7-SI1Ig) went out in Spanish to English-speaking residents. Maps did not get updated fast enough for people to know if they were or were not in evacuations zones. Mixed messages had people confused, but as the days progressed, details filled in and county officials kept people in touch through every media channel they could use.
Updates morning and night on social media (https://www.facebook.com/CountyofSonoma) (https://www.facebook.com/sonoma.sheriff) became routines people clung to...whats up now? And the best part was that they were recorded so anyone who missed the live update could watch it later.
Here is the last one on August 28, 2020:
Evacuation maps got updated and are still in the process of being improved but they were refined enough that once people saw a map and found their Evacuation Zone, they knew what to do, There is tremendous comfort in knowing your own status!
In a situation where everything is in flux moment to moment, people are scared so stress is high, the flow of information took the unknown out of the equation so people knew where to go for up-to-date information. This is where social media shined. Unlike listening to just the radio or just waiting for a newspaper to come out, information was a multi-way street and constant. Mis-information also flowed, but for the most part someone was there to correct errors, fill a gaps, and support each other. Communities shined with mutual support.
Make sure you know about the WARM LINE if you are stressed out. Whether it's fire or COVID, the county has set up this line for people having a hard time coping: Call (707) 565-2652 for free and private support if you or someone you know is experiencing emotional stress and anxiety. Available 7 days a week from 10 a.m. – 7 p.m..
That support extended to citizens becoming part of the fire mitigation crews. Companies that owned earth-moving equipment, chain saws, etc. sent people out to work with firefighters because there wasn't enough of anything! Local restaurants sent out bagged food for firefighters to beep them fueled for high energy work.
As the fires grew across the state both local and state electeds found resources from across the planet to fight fires sparked by lightning, a rare experience in California. Maps of the entire state gave us the story of just how many fires, where, and yes, it looked like California was on fire (and the world for that matter!).
Here's a link to CAL FIRE's information which covers a lot of turf. The more you know the less fear you feel: https://www.fire.ca.gov/incidents/2020/8/17/lnu-lightning-complex-includes-hennessey-gamble-15-10-spanish-markley-13-4-11-16-walbridge/