Wrap up the year with a drive up the coast
Wrapping up the year… wrapping up the gifts or rapping up highway one. No matter what your style, the North Coast has truly something fine and fabulous for one and all.
Starting with the ocean. This magnificent Pacific Ocean provides 'all of the above' on every level. It's beauty refreshes and amazes 24/7. Although the temperature is a bit on the chilly side, with the right suit one can brave the brrrr. Just watch the surfers, they have it down. I still enjoy a dip au natural from time to time. One can at least walk barefoot in the water to soak in the deliciousness. Oh! and the ocean smell. There's nothing like it. You always know when you're there. Not to mention the sounds of those crashing waves. Ahhhhhh, the ocean.
This is a perfect time to take care of oneself [and each other] by giving the gift of getting to the ocean. Spending time at the seashore will fill you with a feeling of beauty and fun.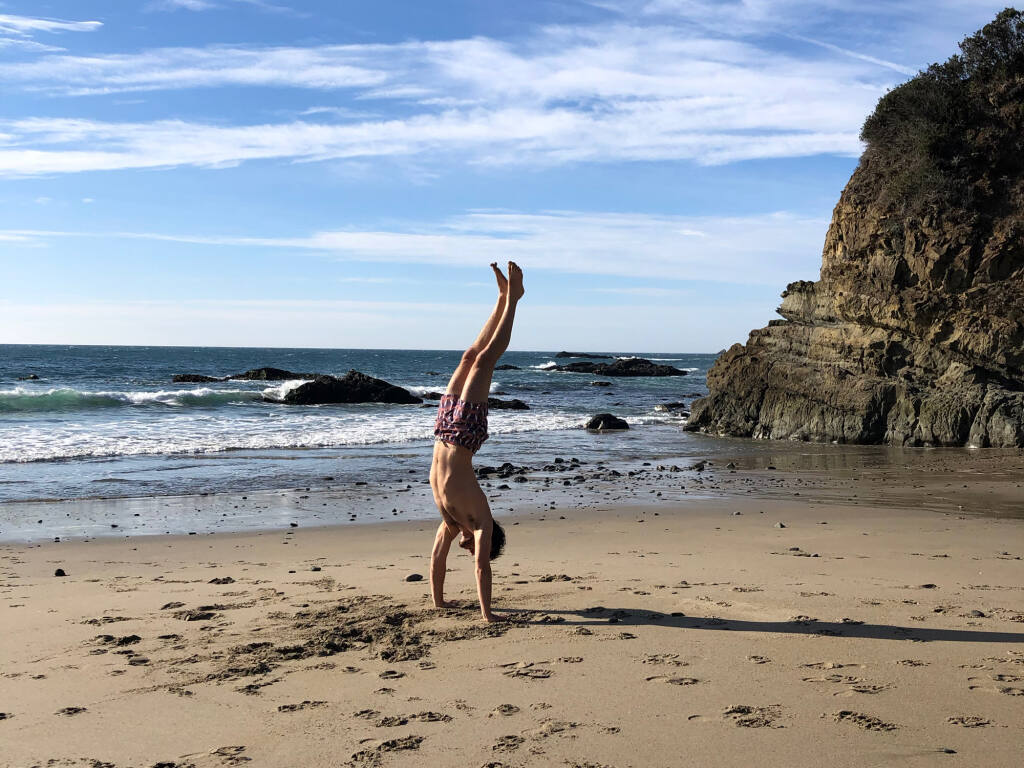 Surfing, walking, making sand castles, exploring the tide pools, doing handstands or just relaxing on the beach. Bring a picnic, some friends, a towel and treat yourself to the magic of the Pacific Ocean, north coast style. Please remember to be safe while at the ocean and to never take this mighty ocean for granted. Do not turn your back on the ocean and have a sneaker wave come along and take you down. Not good. Be smart and keep your eyes open.
This is a perfect time to catch the gray whale migration off the coast as they travel from Alaska to Baja California, Mexico. Look for the 'white puff' spouts and watch for a glimpse of their back, followed by their tail. Oohs and ahhhs are sure to to be heard.
While considering the numerous options of spending your time, here are a few to consider.
Fort Ross State Historic Park offers a wonderful opportunity to stop and explore a very unique area on the Sonoma Coast. Visitors can explore the grounds and take in the beautiful scenery. The history as well as the Russian architecture are quite fascinating. This is a wonderful place to visit with plenty of parking, nice restrooms, room to roam…well worth the time. A perfect getaway to bring family and friends. There are picnic grounds as well as handicap-accessible.
Fort Ross State Historic Park is open EVERY DAY! The Visitor Center and the fort compound is open from 10am to 4:30pm. The park grounds [3400 acres!] are open from sunrise to sunset. Located 42 minutes north of Bodega Bay. fortross.org/info
A little farther north on Hwy 1 at Stewart's Point is the 'Delicious Destination' of Two Fish Baking. A much loved local 'secret' that offers quite an array of baked goods, various drinks, sandwiches and soups. A market and gift store as well. Lovely area with picnic tables to stop and enjoy your goodies.
The Redwood Coast Visitors Center serves the Northern Sonoma and Southern Mendocino County coastal region. They carry abundant information about the local area and areas north and south for the en route traveler. They can connect the visitor with local lodging establishments in advance or at the last minute. There is Internet access and a lovely ocean view. Their weekend events calendar is a resource for the visitor who wants to take part in local happenings. The website has a wealth of information. In the heart of downtown Gualala they are located at 39150 South Highway 1 Suite 4.
Gualala Arts Center is providing a Winter Wonderland Holiday Event for the entire family. Friday Nov.26 through December 30 This event is free and sure to inspire you for the holidays. There will be a great variety of gifts available as well as a silent auction for all the decorated trees. The silent auction ends Dec.18 and be sure to look for mine! I entered it at the final hour! I almost had to give up and surrender as I could not find my glow-in-the-dark paint anywhere, which was the crucial beginning. Lo and behold my perseverance paid off and my multi sensory tree is now on display. Grab some friends and enjoy the festivities of the holiday season. gualalaarts.org for more info
Dolphin Gallery Holiday Exhibit is showcasing various artists with Art, Gifts, Music and More for all your holiday enjoyment. Located at 39114 Ocean Drive at Cypress Village. Info at (707) 884-3896 and at GualalaArts.org/Dolphin-Gallery
Point Arena Downtown Merchants Association is promoting the annual Downtown Holiday Event on Saturday, December 11 from 12-7
There is a 15% discount on purchases. Please get out and support the community that supports you.
Many of the businesses in Point Arena will be joining in on the festivities throughout the day. From the south you will find Point Arena TileWorks and Lisa's Luscious Jams. The Arena Co-Op, The Zen House and The Green Room as you head through downtown. Little Green Bean and Franny's Cup and Saucer across from the Arena Theater - call for showtimes (707) 882-3272.
Think Visual Art Gallery will be hosting an art reception for the local ,talented [recently married!] one and only Alysia Burke [Caulkins] on Dec.11 from 1-5 p.m. Stop in to meet the happy artist, offer up some congratulations AND enjoy her gorgeous art.
While at Think Visual, owner and birthday boy, Jeff Hillier will be celebrating his annual trip around the sun. Happy Birthday wishes are always welcome.
Roots Herbal Apothecary, My Sister's Marketplace and Coast Highway Artist's Collective will all be open and ready for the holiday shoppers.
Please support the local businesses and artists as much as possible this holiday season.
The Point Arena Lighthouse is another fantastic destination to explore the history and beauty of the area. The museum and store are open and they are offering virtual tours online. They also have cottages available. pointarenalighthouse.com
While travelling up and down coast it is very important you pay attention to the road and those around you. The wet conditions and many turns can cause accidents to happen. It is fine to drive slower than others, please PULL over if there are others behind you and let them pass. It can be very frustrating to be behind stubborn drivers.
Whatever you do, or don't do this holiday season, please remember to help others as much as possible. Be generous in your giving. Whether it is with money, gifts, a much needed service for someone, find the time to help make this world the great place it can be. Think homemade decorated Christmas cookies! Donations to favorite charities. Spending time with your elderly friends and sharing stories. Surprise your neighbors. Surprise yourself!
Have a super fun, nature-filled, heart warming month and see you next year!
Messages and ideas can be sent to: eperill@gmail.com