Windsor's Himalayan Restaurant a delicious Zen experience
Just across from the Windsor Green, on McClelland Drive, Bishnu Pandey, owner, manager and head chef of Himalayan Restaurant has created a gem of an eatery, bringing the flavors of India and Nepal, with a nice dash of California fresh, to this friendly town. The exterior is pleasant enough, but once you enter, the world falls away and you can feel as if you have escaped to a monastic retreat with five-star cuisine. Tranquil chanting flows around you as you enter and a sense of calm and peace envelopes your soul. It is a truly soothing sensation, simply standing in the restaurant, breathing in the scent of curry, herbs and spices.
Originally from Himalayan Nepal, Bishnu learned Beverage and management at Soaltea Crowne Plaza Hotel in Nepal. From there he has had experience working in almost every kind of restaurant, including the Jumeirah International Hotel in Dubai. Through his passion and love of light and healthy cuisine, he uses fresh organic ingredients and olive oil.
When we arrived at Himalayan Restaurant, the morning fog had lifted but there was still a bit of coolness in the breeze outside, so we opted for an indoor table. I decided to walk around the room to check out the exotic, hanging filigreed lamps and what looked like Indian and Nepalese art work hanging on the walls and had a nice chat with Heather, a very happy and pleasant regular. Having lived in India, she shared how much she loved the authentic flavors in everything she has enjoyed at Himalayan Restaurant whenever she has visited.
"My husband isn't into Indian food," she shared. "But he enjoys coming here and especially likes the tandoori chicken salad." She also raved about the iced chai.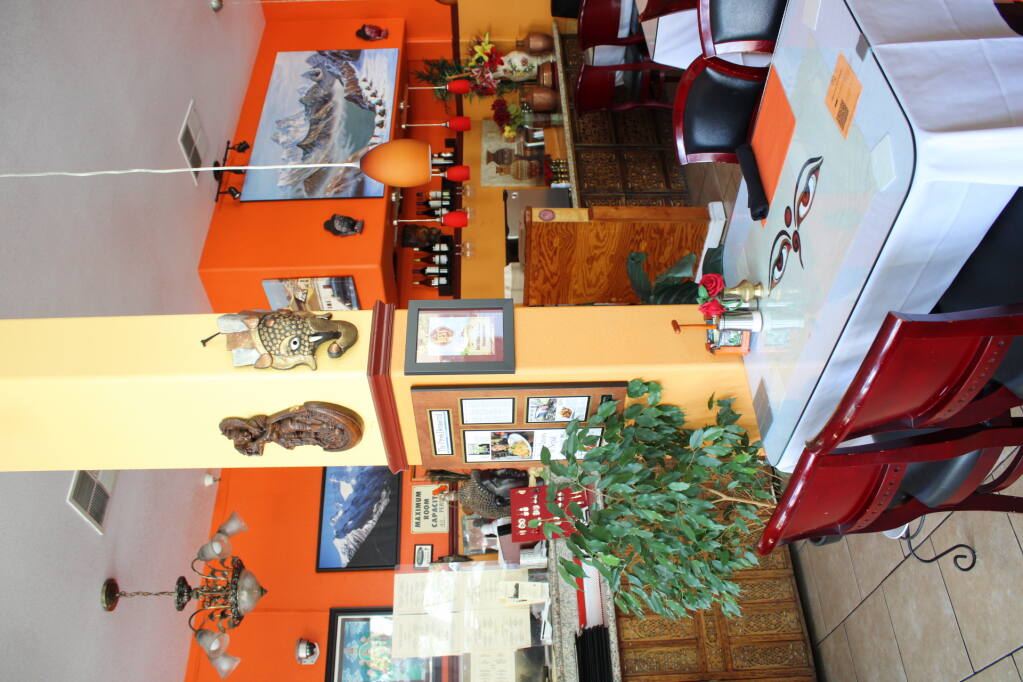 When I returned to our table, we ordered the Samosa Chaat appetizer ($8.99). A tangy combo of apples and onions with crispy vegetable samosas, topped with yogurt, mint, cilantro and tamarind chutney. Besides looking like a piece of art, it could almost have been enjoyed as a dessert with the sweetness of the apples and chutney. For the entrée we ordered the Keema Matar ($13.99), one of their fabulous lunch specials. It has minced lamb and green peas cooked with spices in a creamy sauce. We each served ourselves as much as we wanted over the perfectly cooked basmati rice. Not being especially fond of extreme heat, I was thankful we had ordered the main course in a medium heat. The lentil soup at the front end of the entrée, was one of the best lentil soups I've had and I do love lentils. It was so fresh and heartwarming, I could have been happy and content with just a giant bowl of the soup, but when the Keema Matar arrived, it was fortunate we hadn't just ordered the soup. The salad of organic spring mix was topped with a mango dressing, not too sweet but with a delicate hint of herbs and spices. Our waiter, Ramesh, was very patient and attentive as he answered my questions about the various ingredients. Naan came with the meal but we also ordered a large side of warm garlic and olive oil naan. A nice balance to the bit of heat from the Keema Matar.
Thinking back on our meal at Himalayan Restaurant, in the quest for the quintessential Indian food, one doesn't have to travel to the other side of the world, all it takes is a trip to Windsor with a good appetite in tow.
When you go (bring your appetite and leave your stress at the door):
707-838-6748
810 McClelland Drive
Windsor, CA 95492