Tiny Thai packs fresh flavor in Cotati
Cotati could be overlooked as one of Santa Rosa's little sisters, the quiet one. But main street central holds a kind of subtle energy that packs a lot into a small area. Restaurants, bars, shops and a cute little coffee shop frame the tree lined street where people mingle and meet in a very pleasant and friendly atmosphere. Tables spaced out on the street and sidewalks in front of the various eating establishments and bars recall restaurants in the city, though this scene is now played out in front of countless restaurants, cafes and coffee shops everywhere because of the pandemic and social distancing.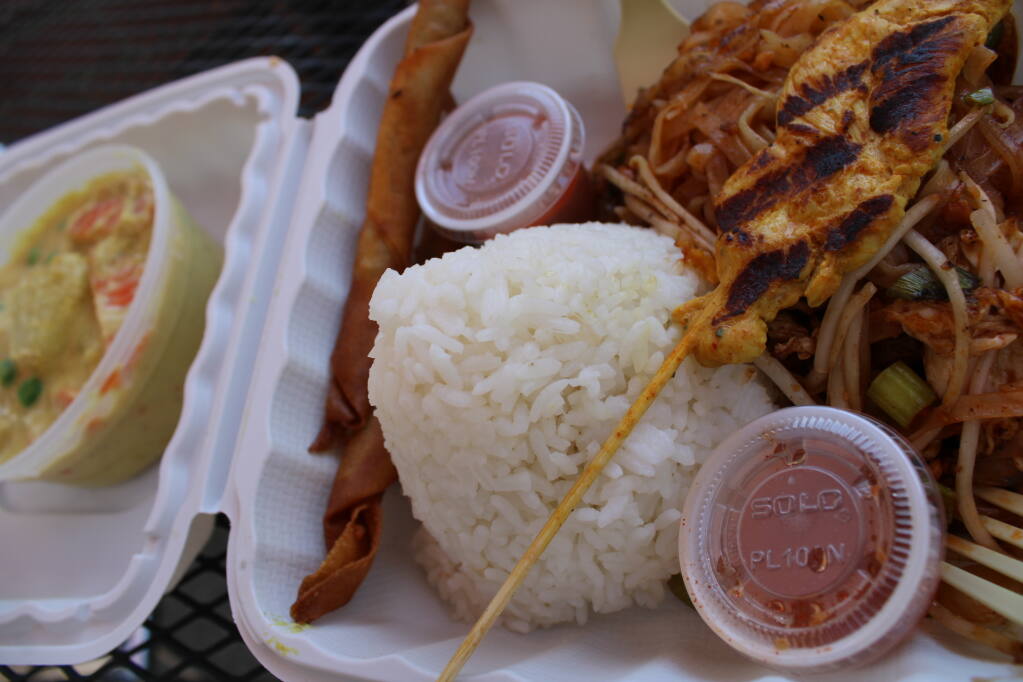 Terry and I had come to explore this quaint little spot that I knew truly little about. Cotati brings to mind the small towns that have passed through my life over the years, with its tree-lined streets and slow-paced vibe. After a short meander, we were getting hungry and in pursuit of something spicy and were overjoyed to find it at Tiny Thai, a sliver of an eatery just a block off East Cotati Ave. The owner, Kack, was getting ready to close for the afternoon but told us that they could prepare some take-out, which we happily ordered. While the chef was preparing our tom kha soup and giant combo of pad thai, jasmine rice, tiny rolls, satay and chicken curry with a not too spicy and very peanutty chili sauce on the side, Kack and I chatted about her experiences as a restaurant owner. The pandemic has given me a new appreciation for and desire to understand what the owners of eating establishments have had to go through over the last year and a half. Kack's friendly smile and easy manner shine through in her belief in what she has provided to the community since she first opened Tiny Thai 11 years ago.
At a table out on the sidewalk in front of Tiny Thai, we dug into the tom kha, a soup with a cream, tomato and coconut milk base with just the right amount of chili heat to enhance the fresh veggies, chicken and lemongrass. It was comfort soup that would be lovely to also have on a chilly Sonoma County rainy winter day. But soup is good any day and I was glad we had made this our choice. The giant combo is a great lunch option for two with its hint of sweetness in the satay and a mild chicken curry. Being someone who overdid the hot and spicy as a teenager and imbibed on an excessive number of tacos stuffed with jalapenos, driving me to the land of mild heat, this flavor-packed and mild Thai food is perfect! The tiny, deep-fried rolls were delicious dipped in the peanut chili sauce. If truly hot and spicy is what you are after, Kack and her chef will happily provide that for you as well.
Enjoying takeout on a treelined street on an 80-degree Sonoma County day is a delightfully sane and unrushed way to enjoy a meal and a place, and Cotati with it's small town rhythm does a fine job of being Santa Rosa's cool little sister.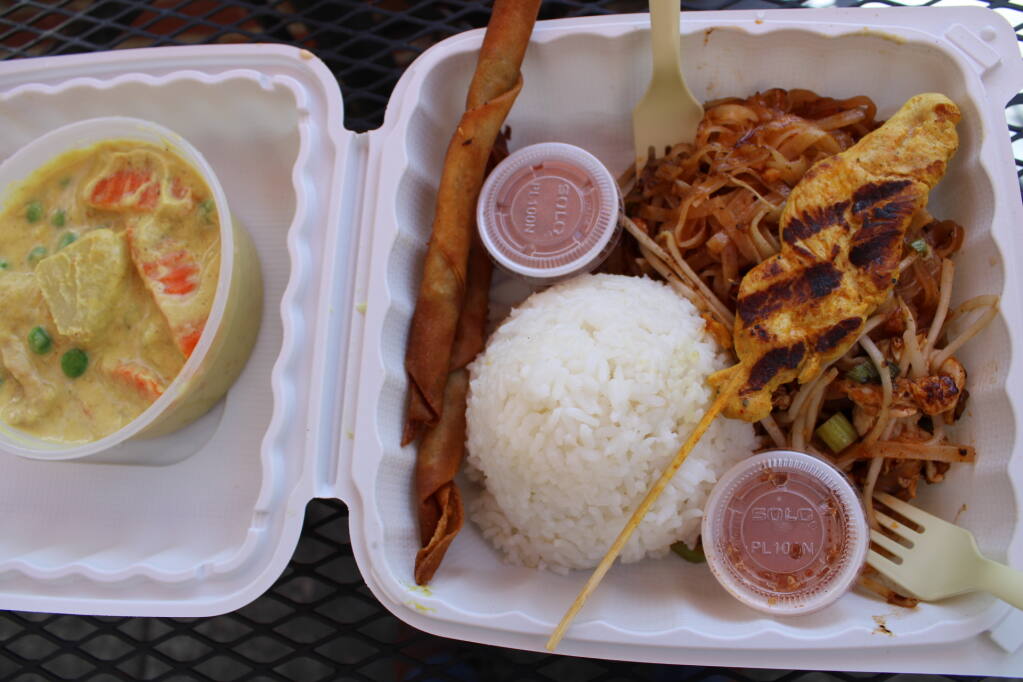 When you go:
8238 Old Redwood Hwy
Cotati, CA 94931
707-794-9404