The Glass Menagerie
I recently reviewed a play in this column as "a thoroughly entertaining night out" and it was. But Main Stage West's current production of Tennessee William's The Glass Menagerie is in a stratosphere of its own. It's the best that theater can be: beautiful, memorable, intelligent, lyrical, demanding and – oh yes – entertaining. Don't doubt that for a moment. It's accessible. It's what theater at its most glorious is all about. And it's right here, in Sonoma County.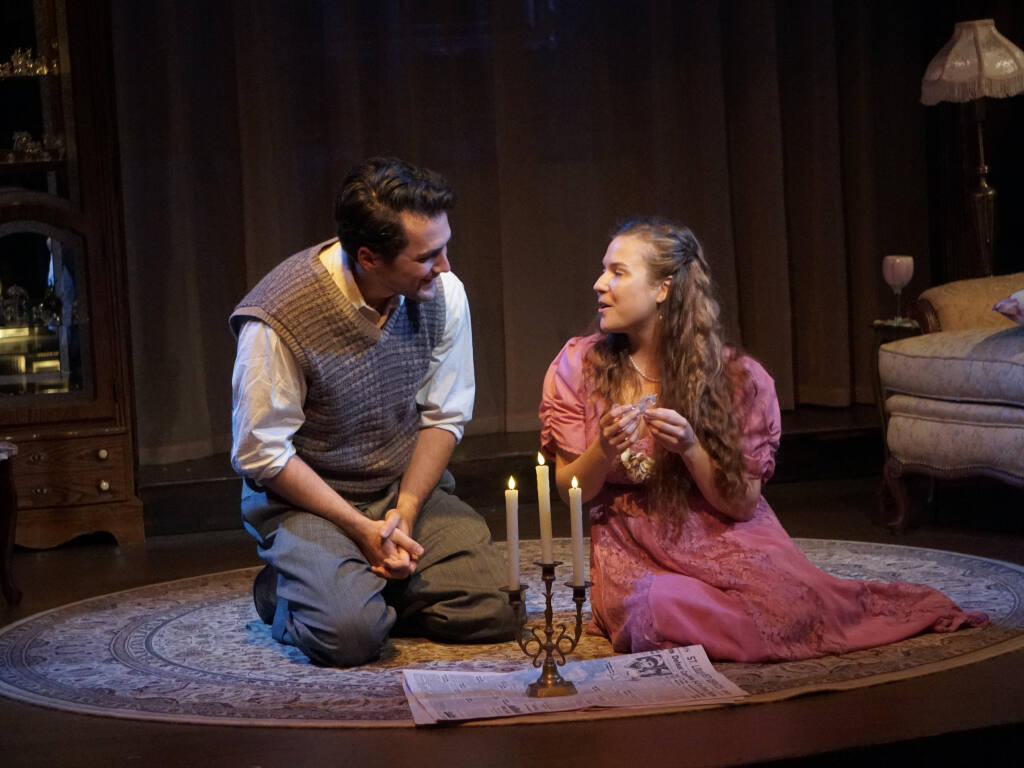 In this largely autobiographical play, Tom Wingfield (the character based on Williams) reflects on growing up in impoverished circumstances in St. Louis in the 1930s with his mother Amanda and older sister Laura. Once a Southern belle, Amanda married a feckless man for love who then deserted her and their two young children, leaving her with no financial support. Tom has grown up to be a restless young man, a poet longing for adventure but forced to still live at home and work in a warehouse to pay the bills. Laura is now a painfully shy, slightly crippled young woman, unable to fully engage with the world and preferring instead to retreat into her collection of small glass animals.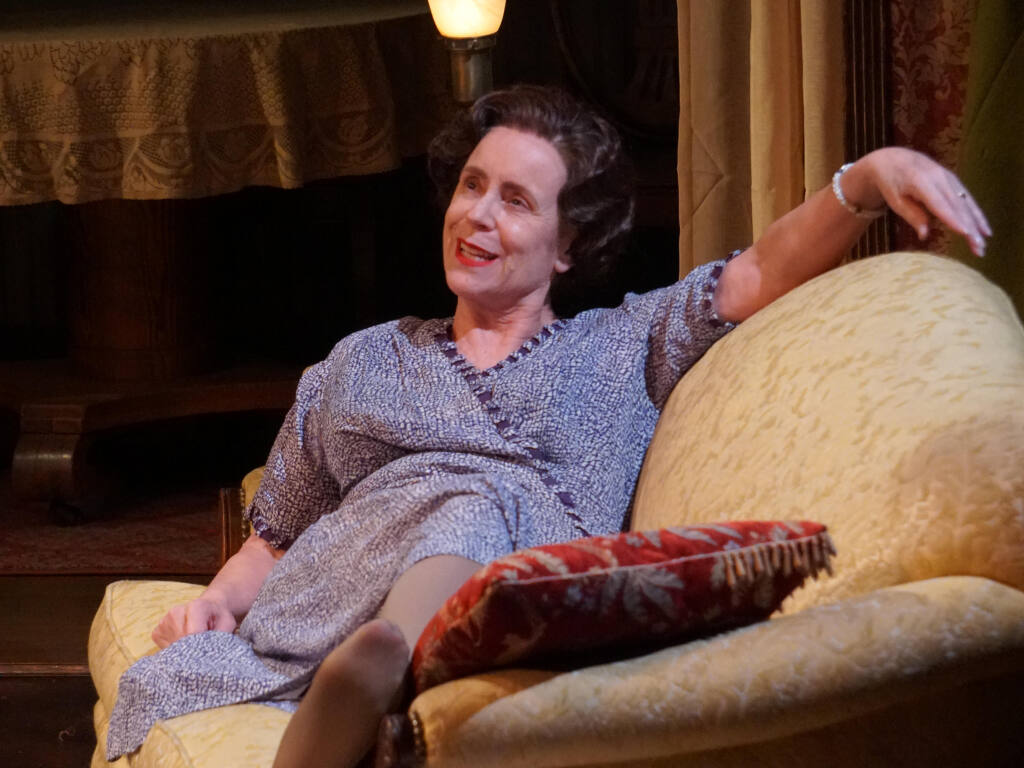 Despite Laura's obvious mental and physical fragility and the passing of the years, Amanda clings stubbornly to the hope that her daughter will one day make a good match and lift the family out of its poverty back to the world of her own youth; a world that, even as she dreams and schemes, clearly no longer exists. Alternatively bullying and cajoling, she persuades Tom to bring home a young man from the warehouse to dinner or, as she puts it in a nod to her own past, "a gentleman caller" for Laura.
From the moment Keith Baker as Tom steps into the light for his opening lines at Main Stage West, you know you are going to witness something remarkable.
Williams famously called The Glass Menagerie a "memory play." He left copious stage notes in the script as to how it should look and sound to achieve his concept of a world that is not quite true or real or substantial, but seen through the eyes of Tom, an unreliable narrator.
In this production, a handsome set, exceptional lighting design by Missy Weaver, haunting music and period costumes create the playwright's "dim and poetic" world and serve to frame some extraordinary ensemble acting that on the evening I attended held the audience riveted throughout.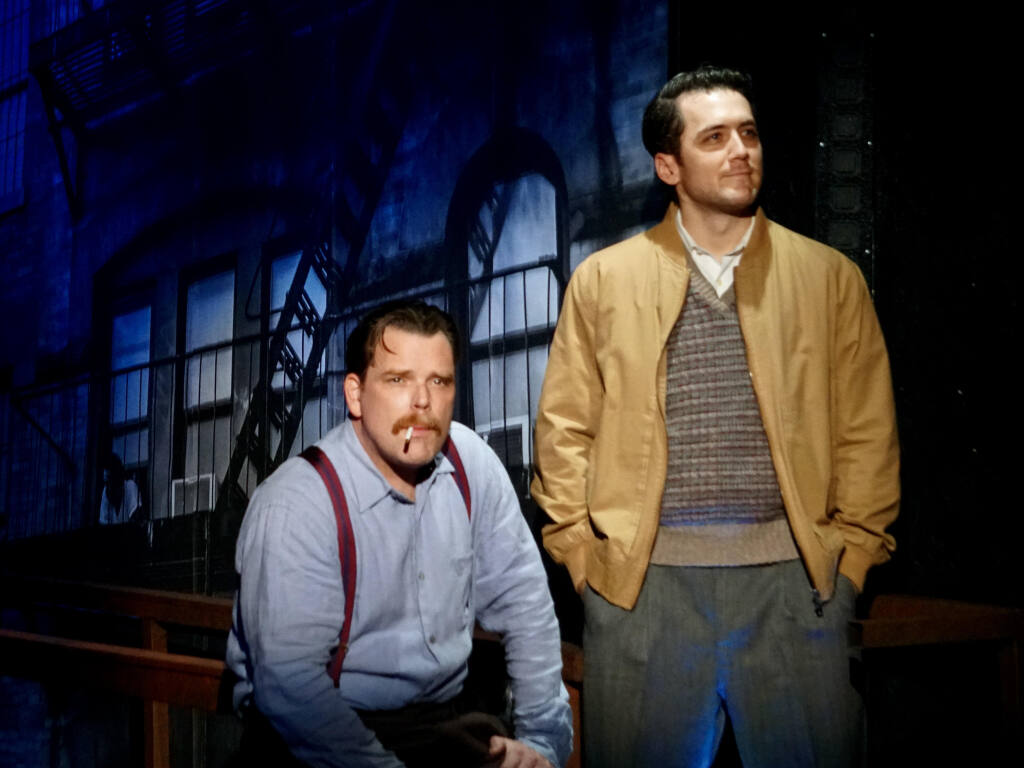 Sheri Lee Miller plays Amanda Wingfield as more sympathetic and less brittle than she is sometimes portrayed and I found the play richer for it. Even as Amanda repeatedly relives her past glories and her present disappointments, it's clear that her worries about her daughter's future are justified, and her nuanced and multi-layered relationships with both her children include unexpected moments of humor and tenderness and even, occasionally, self-awareness.
As Tom, Baker expertly reveals not only his frustration and restlessness, but also the complex ties of love and loyalty to his family that explain why it's so hard for him to break away in pursuit of his dreams. Damion Lee Matthews as Jim, the long-awaited gentleman caller, catches just the right tones of likability, confidence, genuine sympathy and good intentions. As Laura, Ivy Rose Miller (Sheri Lee Miller's daughter in real life) displays an extraordinary ability to turn from plain to pretty under the gentle spotlight of Jim's questioning. Her stillness as he speaks long and low to her, turned toward him like a flower receiving benediction from the sun, made my heart ache. The scene between them is long and intense, and the two actors navigated it beautifully.
As well as eliciting fine performances from her cast and creating a well-conceived vision of a very difficult play to stage, director Elizabeth Craven has made some very sensible decisions about Tennessee William's detailed stage directions, some of which would be impossible to pull off successfully in the highly intimate space at Main Stage West.
Since I moved here a year ago, I've been impressed by the wide variety of good theater available in my new county. There's no shortage of opportunities in Sonoma County for an entertaining night out. But this show would impress anywhere. Sonoma County residents are incredibly lucky to have it playing only a short drive away.
The Glass Menagerie by Tennessee Williams plays at Main Stage West, Sebastopol until March 5.
Tickets at: mainstagewest.com