Summer ain't always sweet in Sonoma County
Between crowded beaches and neighborhoods, we're finding that Sonoma County is a little saltier than sweet.
On the hottest day of the year so far, two friends and I went to the beach. That is, we tried. Due to limited mobility, we needed a beach with easy access. Hopefully at the ocean, not on the bay.
Wright's Beach looked promising. But as it turned out, that part of the parking lot was closed off due to construction. Nothing on the State Parks website had warned about that.
The ranger suggested we go to Goat Rock. A movie crew was there, filming what turned out to be a car commercial. We did a path down to the beach, but it went up before it went down, and walking 20 feet on sand was not possible for my friend. We actually went to six beaches that day, but none provided anything resembling wheelchair access. Isn't wheelchair access required by law?
The Bots are in revolt and America may never be the same.
Ever tried to return a large ungainly object that turned out not to be as perfect as advertised? It was NOT easy to open. NOT easy to assemble. The brake handles were NOT easy to press or release.
But it sure is cute. It reminds me of my first red tricycle. It came from Walgreen's so I thought, oh good, it's local. Ha! After a couple of tries, I did reach an actual person. But she could not send me an actual label for return. Instead she sent me to another website, where I put in 10 numbers to identify the product, made a mistake and got bounced off the site. Another try got me to the form I had filled out before. I was now on a Pitney Bowes website. Remember them? The label would not print.
The poor salesperson had to fill out another form to get the receipt mailed to me. I took the survey afterwards to let off steam. Only one question about the product; all the rest were rating the sales clerk!
One chance to say I would not recommend Walgreen's online for anything. But it's not just Walgreen's. Other major retailers operate like this. Staples.com is not run by Staples-down-the-block. It's all paving the way for 5G with its Internet-of-Things and drone deliveries. Tried talking to a drone lately?
The race of big moneyed investors to gobble up Sonoma County properties has finally impacted the upper-class homeowner.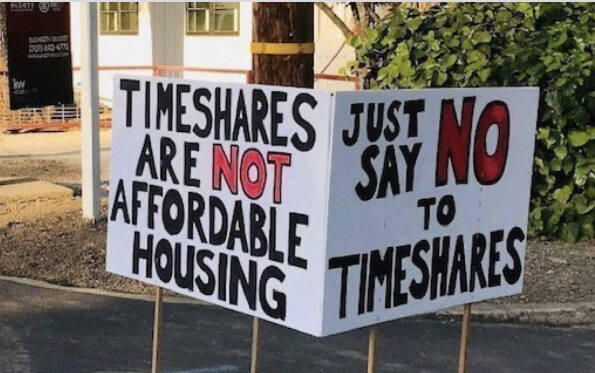 We all know the real estate market is on fire; property rates rose 9.7% last January over the year previous. In just last month, 546 homes sold for a median price of $780-thousand, an increase of $100,000 (KSRO report) in five months. Meanwhile only 27% in Sonoma County can afford the down payment for a home.
Now as if to rub salt in a wound, a billion-dollar company called Pacaso is buying up expensive properties, dividing them into eight time-share bits, and selling them – or the part-time use of them – for upwards of $660,000. This price is essentially rent; "owners" can only use their slice of real estate 44 days a year. Do the math.
Pacaso is not only the broker but the management company; they not only buy the houses but arrange their sale; and jolly good, they even furnish them. Profit? You bet. They can easily afford to donate the 20 percent of each multi-owner sale (which means what?) to a nonprofit working for affordable housing.
Dave Ransom writes in the June 5 Sonoma Valley Update, "Pacaso organizes clients into an anonymous limited-liability company (LLC) and allows them to sell out after two years…Besides taking 10% off the top of the original buy-in, they [Pacaso] get a monthly management fee. After just seven months, Pacaso is already profitable."
The first Sonoma venture is at 450 Old Winery Court (East Side) and the neighbors are mad. They've formed STOP (Sonomans Together Opposing Pacaso) in protest. Asked what they have to lose, Brad Day, the leader of the band, told the I-T, "Community." He was not available today and I've run out of space. But we'll be watching this one. Just another piece of the larger picture.
Wine Country is up for grabs.