New regional stay-at-home order: Sonoma County is NOT currently under the order
Governor Gavin Newsom announced today, Thursday, December 3rd, a new regional-focused effort to help slow the spread of COVID-19 as well as assist hospitals from becoming overwhelmed with COVID-19 patients. This Regional Stay at Home Order establishes five regions across the state, and would go into effect for a region within 48 hours if that region's remaining ICU bed capacity falls below 15%.
Sonoma County, as part of the Bay Area Region, is NOT currently under the Order. However, should the Bay Area Region fall under 15% ICU capacity, the Order will prohibit private gatherings of any size, close sector operations except for critical infrastructure and retail, and require 100% masking and physical distancing in all others. All Californians are encouraged to continue to avoid non-essential travel.
The Regional Stay Home Order, announced December 3, 2020, will go into effect within 24 hours in regions with less than 15% ICU availability. It prohibits private gatherings of any size, closes sector operations except for critical infrastructure and retail, and requires 100% masking and physical distancing in all others.
The order will remain in effect for at least 3 weeks and, after that period, will be lifted when a region's projected ICU capacity meets or exceeds 15%. This will be assessed on a weekly basis after the initial 3 week period. Learn more about this order.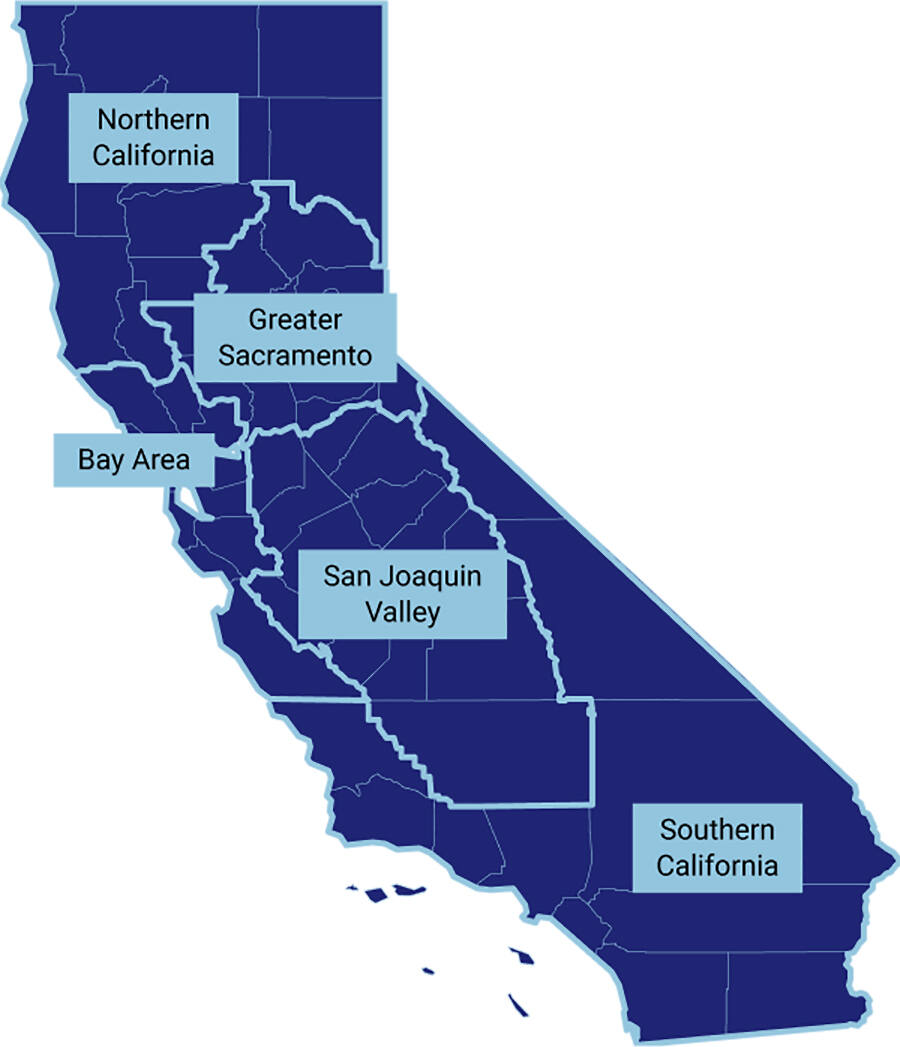 The state released a map of the five regions being measured. They are:
Northern California: Del Norte, Glenn, Humboldt, Lake, Lassen, Mendocino, Modoc, Shasta, Siskiyou, Tehama, Trinity
Bay Area: Alameda, Contra Costa, Marin, Monterey, Napa, San Francisco, San Mateo, Santa Clara, Santa Cruz, Solano, Sonoma
Greater Sacramento: Alpine, Amador, Butte, Colusa, El Dorado, Nevada, Placer, Plumas, Sacramento, Sierra, Sutter, Yolo, Yuba
San Joaquin Valley: Calaveras, Fresno, Kern, Kings, Madera, Mariposa, Merced, San Benito, San Joaquin, Stanislaus, Tulare, Tuolumne
Southern California: Imperial, Inyo, Los Angeles, Mono, Orange, Riverside, San Bernardino, San Diego, San Luis Obispo, Santa Barbara, Ventura
The counties that fall under the Bay Area region includes Sonoma County
The order will be triggered in a region if ICU capacity drops below 15%, and the region will have 48 hours to adopt the new order.
Below is the current available ICU capacity by region, based on actual numbers:
Bay Area 25.4%
Greater Sacramento 22%
Northern California 18.6%
San Joaquin Valley 19.7%
Southern California 20.6%
Regions that fall under the stay-at-home order mandate will be on lockdown for at least three weeks.
For the latest statistics update on Sonoma County please watch the video from Dec 2, 2020. Questions from the public are answered in the end and they cover important topics especially those pertaining to the Vaccine:
.