Local live theater: The destination is in sight!
Are we there yet?
Well, almost. Live, indoor theater is coming back to town, and I'm not the only one ready for it! As I mentioned last month, Left Edge Theatre bravely tested the waters with its in-house production of "Slow Food" in June and had to extend the run, due to audience demand. Now, companies are beginning to publish their 2021-22 seasons and it's already clear we have plenty to look forward to.
First up, 6th Street Playhouse published its "Ten Enticing Titles" season announcement for performances in its GK Hardt Theatre and adjoining Monroe stage. If you're hankering for musical theater, look no further: the main-stage season opens September 16 with "Murder for Two," a fun musical "whodunit" for two singing and piano-playing actors. That's followed in November by "Scrooge in Love," a musical sequel to the tale of "A Christmas Carol." In 2022, you can also enjoy the classic rock musical "Hair," "Hank Williams: Lost Highway" about the life of the country music legend, and Dolly Parton"s rollicking "9 to 5, the Musical."
6th Street's Monroe stage, designed for more intimate theater, opens its doors on August 12 with the comedy "Love, Loss and What I Wore" by Nora and Delia Ephron, a light-hearted but frequently poignant look at life as told through a series of female monologues. Subsequent shows include "Vincent" by Leonard Nimoy (yes, that Leonard Nimoy), a one-man show depicting a lesser-known side of the artist Van Gogh; the always entertaining "The Legend of Georgia McBride" about an out-of-work Elvis impersonator who reluctantly becomes a drag queen; the enduring and still timely classic "A Raisin in the Sun;" and "Real Women Have Curves" by Josefina Lopez, which celebrates the Latina immigrant experience. More details on all ten 6th Street Playhouse shows at https://6thstreetplayhouse.com/2021-2022-season/
Left Edge Theatre has also published its 2021-22 season, with one show still to be determined. For those still wary of indoor performances, LET's season opener, "Beautiful Monsters" by Kelley Gray, will run for one weekend outdoors at the beautiful Horse and Plow Winery in Sebastopol (August 20-22). Described as "a world premiere of an avant-garde performance art obituary for the year 2020," this intriguing show of words, music and dance relocates to LET's studio theatre at the Luther Burbank Center for the Arts on September 4. "Beautiful Monsters" will be followed by popular playwright Sarah Ruhl's dark comedy, "How to Transcend a Happy Marriage." "Queen of Sad Mischance," a new play by John Minigan about feminism, race and early-onset Alzheimer's in the rarified world of academia, opens in April 2022, with the exuberantly joyful "Dance Nation" by Clare Barron rounding off the season in May/June. LET tickets and season subscriptions are available at: https://www.leftedgetheatre.com/season7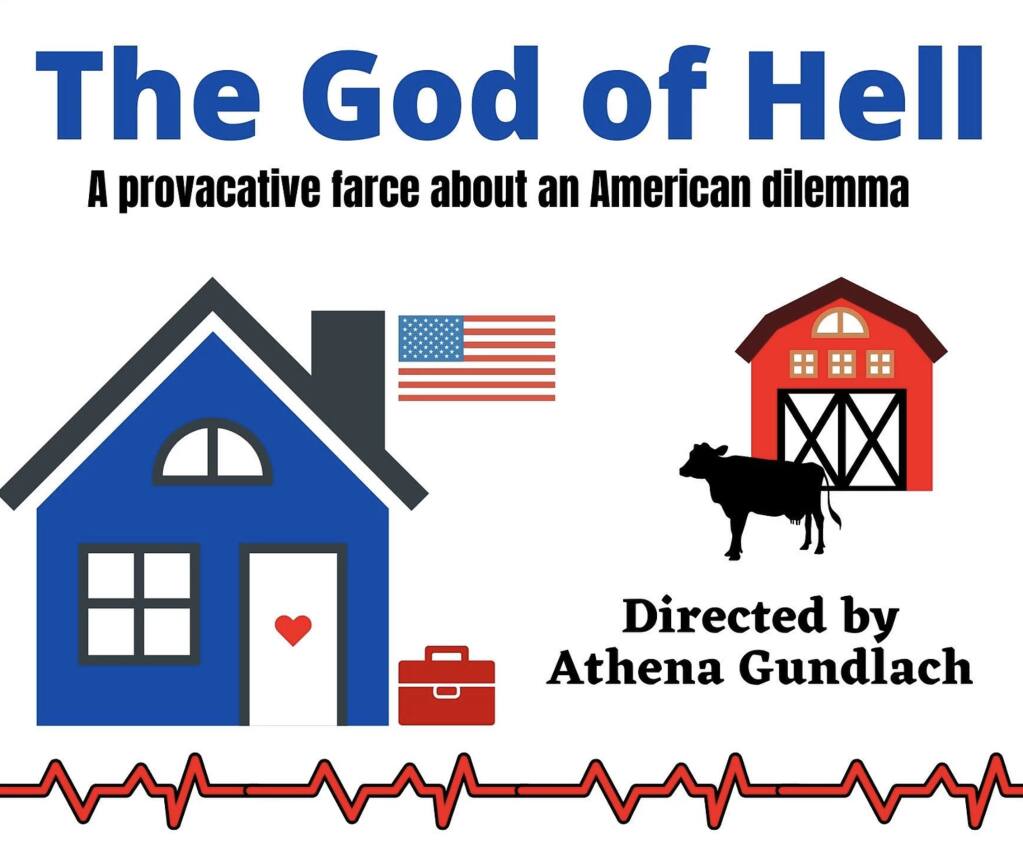 If you can't wait that long to sit in a theater seat, Cloverdale Performing Arts Center's production of the powerful political satire "The God of Hell" by Sam Shepard runs July 17 – August 1 with 50% audience capacity and some mask-wearing required. Find out more at https://www.cloverdaleperformingarts.com/
And per last month's column, don't forget Transcendence Theatre Company, now performing "My Hero" outdoors through June 20: details at https://transcendencetheatre.org/my-hero
As a last note, if you're a performer who's feeling a little rusty after all this time away, or if you're just keen to know more about the ins and outs of theater behind the scenes, check out Santa Rosa Junior College's Fall 2021 Class offerings. Almost all classes will be in-person on campus. More details at https://www.srjctheatrearts.com/fall-2021
We're nearly there and you can start planning now. Don't miss these opportunities to celebrate and support your local theater companies – after clinging on through the toughest year imaginable, they truly deserve it.