It's up to us! Sonoma County Climate Activists Community Summit
Originally published Dec14, 2020 -
Sonoma County Climate Activist Network (SoCoCAN!) is pleased to host our 2021 Community Summit on Zoom, to be held on Sunday, January 10 from 2-5 PM. The Climate Summit is a call to action, a call to connect, a call to build on common ground – featuring educators, community members, experienced activists, youth activists, organizations and experts.
We are excited to share important work on indigenous practices, connecting with the land, on reducing our dependence on fossil fuels, on educating the public about the dangers of forest-based biomass, on the beauty and biodiversity of post-fire forests, on regenerative agriculture and regenerating soils, on promoting resilience in our communities living in fire-prone lands, on the Green New Deal, on climate justice, racial and social justice, and on climate policy at a regional scale.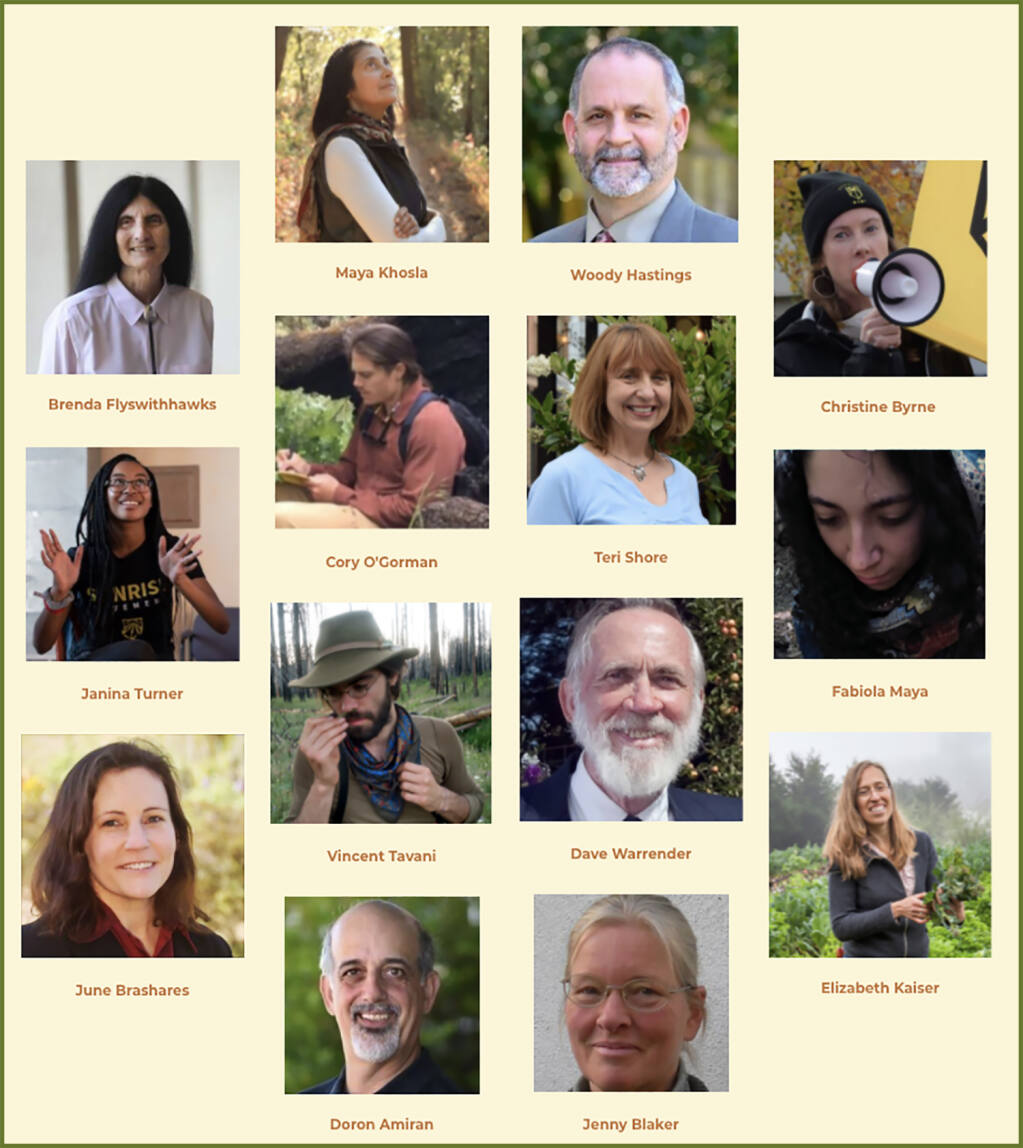 Our speakers are
Dr. Brenda Flyswithhawks (Professor, Santa Rosa Junior College)
Woody Hastings (Energy Program Manager, Climate Center)
June Brashares (Steering Committee, Local Clean Energy Alliance)
Christine Byrne (Sonoma Sunrise Movement; Sonoma Water) and
Janina (Nina) Turner (2020 Sonoma County "Youth Inspiring Youth" Award winner)
Elizabeth Kaiser (Singing Frogs Farm)
Maya Khosla (2020 Sonoma County Co-Environmentalist of the Year; Sonoma County Poet Laureate Emerita)
Cory O'Gorman (Ecologist and Traditional Ecological Knowledge systems student)
Teri Shore (Advocacy Director at Greenbelt Alliance)
Fabiola Maya and Vincent Tavani (environmental educators), and
Dave Warrender (Citizens' Climate Lobby, Santa Rosa Chapter).
Our January Summit will offer presentations with discussions that will give us a chance to discuss and collectively support the ongoing works! Several presenters will offer free, COVID-safe, outdoor workshops that will follow the Climate Summit.
Our purpose is to unite local groups and concerned citizens so that we can meet this new decade with a clear vision of actions that address the social, political and environmental challenges of our time. All are invited to attend.
FINAL2 SOCOCAN! Summit Poster-2-1.pdf
We recognize that this is a critical moment to gather, to acknowledge the land, strengthen our community spirit and clarify our vision. Although the tasks before us are challenging, we are fortunate to live in a county that has been at the forefront of progressive and transformative change. SoCoCAN! has engaged in several successful campaigns including the All Electric Reach Codes in Santa Rosa and Windsor, ensuring that natural gas will no longer be allowed in new housing construction under three stories. Sonoma County Board of Supervisors, Santa Rosa, Sebastopol, Petaluma, Windsor and Cloverdale have issued climate emergency declarations. Cities throughout the county have committed to Zero Waste Ordinances and the county is building a centralized state-of-the-art composting program. Schools for Climate Action has established a movement which has now spread to 100 organizations in 13 states. The City of Santa Rosa has endorsed California's Initiative for Public Banking, to fund projects such as affordable, energy efficient housing. SoCoCAN! has supported the local movement to stop all new gas stations and campaigned in favor of Measure W (City of Sonoma) to renew the Urban Growth Boundary and preserve green space.
We experience success when we show up together. When we stand together with a clear message, we can win. One important challenge this year is to bring urgency and transformation to Sonoma County's update of the General Plan, a roadmap for Sonoma County's goals for the next decade.
We hope you are encouraged to put Sunday, January 10, 2021, 2:00-5:00 p.m., in your datebook. Please go to http://SonomaCountyCAN.org or call 707-595-0320 for more information. We are the decision makers and leaders of the local and global changes we must create. Starting right here, right now. Together.
___________________________________________________
The Sonoma County Climate Activist Network (SoCoCAN!) is 50+ local groups and over 100 individuals working to address and reverse climate change. We meet in months with 5 Mondays 7-9 PM. Currently, we meet on Zoom. The best way to get involved Is to join our listserv. Let us know if you or your group would like to join the network. For more information go to http://SonomaCountyCAN.org or contact sonomacountycan@gmail.com.