GIFTS that repair & renew
This is a gift that has a life of its own once it passes from one person to another.
How well do you know the people to whom you are purchasing holiday gifts? What gets that person excited? What inspires that person in ways that bring him/her joy. What's important to this gift recipient?
Knowing the answers to these questions is a critical part of gift-giving.
Many people don't want another object. While others truly want an object because they lost their objects in recent fires.
Some people would like a gift that has purpose, contributes to our home in some way, benefits our environment.
Every holiday gift season also comes at the time of year when people need tax deductions so we donate to good causes.
Good timing!
If your friend or loved one has a deep appreciation for our protected lands and public parks, here are perfect gifts that benefit everyone.
Stewards of the Coast and Redwoods
Volunteers and staff are tasked with cleaning up after the fires that blazed through Armstrong Woods and Austin Creek Preserve. Small groups of volunteers are trained to prevent ash from contaminating creeks during our rainy season by removing ash and burnt wood, restoring trails, etc.
They need both time and money.
VOLUNTEER: this is a gift you give to the forest, to the park, to the Stewards and most of all...to yourself. Working to help heal our forests after the fires would bring you immense satisfaction when you return in spring to see how your work helped heal this land.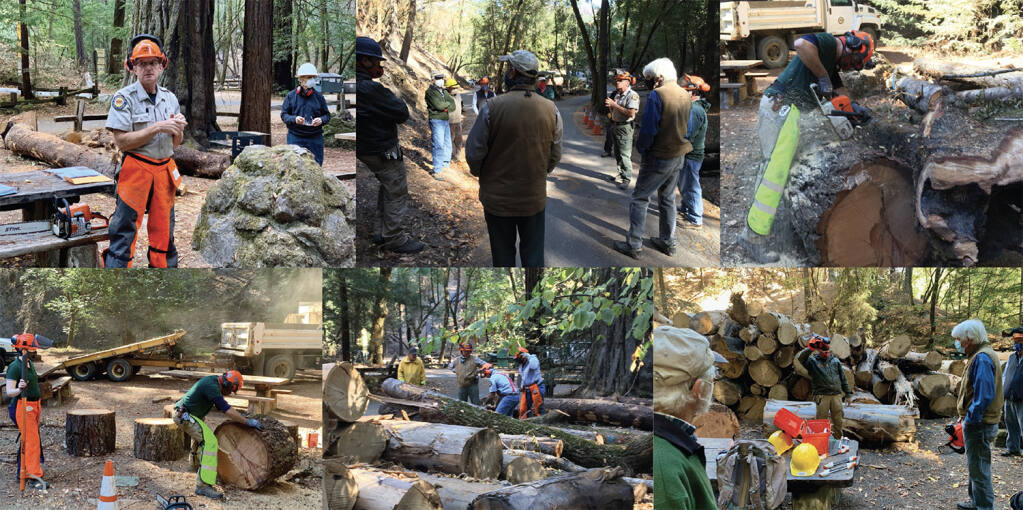 PURCHASE GIFTS at their Visitors Center and Nature Store in Jenner (worth the trip out there just to experience Jenner and Café Aquatica!) and online at stewardscr.org/store. Every item you purchase benefits the good work of the Stewards...in this case, restoration of our precious Armstrong Woods forest.
DONATE, in your name, in the name of the person you want to gift this donation. Heck, a gift can even be a MEMBERSHIP in the Stewards!
Take your pick: general or specific donation to the restoration work in Armstrong Woods/Austin Creek Fire Recovery Fund. In fact, you can even donate a picnic table with a message or name engraved in the wood!
stewardscr.org/how-you-can-give.html - (707) 869-9177
DONATE BY MAIL: PO Box 2, Duncans Mills, CA 95430
People speak of Armstrong Woods as a powerfully moving experience, a place where they find profound peace. That's a worthy cause for everyone!
We could use some more deep breathing!
_____________________________________
Russian Riverkeeper
One of the many ways in which this organization works for the benefit of all our community is by keeping the Russian River Watershed clean and functioning in order to supply us with fresh, clean water. This benefits us humans as well as fish and all life forms. We ALL depend upon water in order to survive.
They start their cleanup at the north end of the Russian River and clean all the way down to Jenner where the river enters the Pacific Ocean.
Riverkeeper also works to restore parts of the river that have been impacted by river gravel mining, timber harvests, homeless camps, and much more.
When you delve into how one small group of people can have such a large impact on all our lives, you become grateful that someone cares this much! Right now they are also tasked with cleaning up after the summer fires.
Ash is deadly to all lifeforms so needs to be prevented from entering our waterways. Erosion prevention and invasive plant species control are also part of their work.
Russian Riverkeeper will be working through Sonoma County's Watershed Task Force to help residents address erosion issues on their lands along with several other community partners such as Sonoma RCD. This is a free service for property owners that were affected by the Walbridge Fire.
They are currently seeking additional funding to help as many in our river community as possible.
Russian Riverkeeper can help by providing:
• Free erosion control assessments
• Advice on restoring with native plants
• Erosion control products and installation (funded by County)
• Referrals to other recovery resources for bridges, culverts and forest recovery
VOLUNTEER: COVID shut down group efforts but you can still collect trash wherever you see it. Let us know of your accomplishments so we can give you a shout-out on social media: social media @russianriverkeepercleanteam
DONATE through the website or by mail, and volunteer your time as well: