Emerging Fire Safe Councils to Hold a Virtual Panel Discussion
August 6, 2020 11:00 AM
It has long been a strategic priority for Fire Safe Sonoma to promote the development of Local Fire Safe Councils in Sonoma County. Last year, we presented an all-day workshop on how to start a local Fire Safe Council.
Since then, Fire Safe Sonoma has been working with the California Fire Safe Council to develop materials that will be used to teach local community groups how to create and manage a Local Fire Safe Council, and we will be presenting a series of pilot Emerging Fire Safe Council training webinars this Summer.
As part of that effort, we are presenting this panel discussion where we will talk with a representative from the California Fire Safe Council and leadership from two recently established Fire Safe Councils to hear about their experiences.
If you are interested in finding out about what it takes to start a Local Fire Safe Council, then this virtual panel is for you.
Our panelists are: Elizebeth Lamar from the California Fire Safe Council, David Duncan from the recently formed Grove Street Fire Safe Council and Paul Stange from Fire Safe Occidental, also recently formed. Our moderator is Roberta MacIntyre, President/CEO of Fire Safe Sonoma.
Please register for this seminar.
The number of participants is limited to 100 so act fast and ensure your place. download ZOOM for free on your pc or phone then register here:
https://us02web.zoom.us/webinar/register/WN_xSBDNir-RYikl1E4pAKEJw
Attendees will automatically be sent an invitation to our upcoming training series on Emerging Fire Safe Councils.
This presentation is brought to you by Fire Safe Sonoma and is part of our ongoing effort to provide relevant information to our subscribers.
Forestville Fire Protection District
Would like to remind residents we serve and protect to GET PREPARED!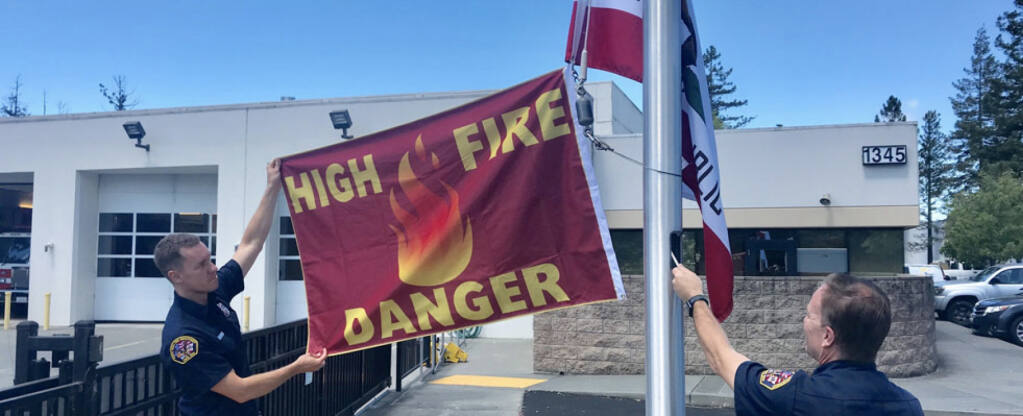 Fire season is upon us and the coming months are predicted to be intense with red flag warnings, planned power outages and the potential for fires high. We cannot stress enough how important it is to be prepared.
Know how to shut off your pilot lights and the gas at the meter.
Make an evacuation plan with family members and neighbors, and don't forget to plan for your pets too.
Have "go-bags" ready and stocked.
In the event of a power outage cell towers may be down so plan accordingly, keep a ready supply of drinking water.
We recommend you check out www.readyforwildfire.org the website has valuable information on how to prepare for wildfire. Here is a preview:
Ordinance 13A: After the October 2017 wildfire, the Sonoma County Board of Supervisors proposed and adopted Ordinance 13A, which is a Vegetation Management Ordinance to help prepare homes for wildfires.
There are requirements that will help increase the survivability of your home during a fire. We, along wit
h CalFire, have been inspecting homes throughout the District. There are many that need immediate attention. We urge everyone to properly prepare their homes and properties, fire season has started, there is not time to waste.
Ordinance 13A Vegetation Management/Mitigation
• Trim up trees to 6 feet from the ground to reduce fire fuel.
• Increase horizontal spacing between trees, which may not be feasible in densely-forested properties.
• Mow grass fields to less than 8" tall
• Reduce "ladder fuels" by trimming trees and bushes of dead branches
• Mulch with non-flammable material within 5 feet of a structure.
• Clean roofs and gutters of debris.
River Safety: The river has seen more people than usual lately flocking to the beaches. Luckily our highly trained Swift Water Teams are always available to assist with river rescues. The river has extremely strong currents and everyone should wear a life jacket. We urge you to constantly watch your children and do not let them go in the river without a life jacket, even the strongest swimmers, adults and children alike, get swept away by the currents and have needed rescue.
Bodega Volunteer Fire
All Bodega Fire Fundraisers have been canceled due to the Corona Virus until further notice. Although we will miss the community engagement, family fun and lost revenue, safety is our top priority and therefore we feel the best practice is to cancel all our events.
We hope to resume our annual traditions of dinners, BBQs and events in 2021.
Bodega Volunteers firefighters continue to train to be ready for this summer's wildfire threats. With social distancing, we have modified our trainings to ensure a safe environment for our volunteers.
We urge you to mow your grass, clear brush, and trim trees around your home to make our job of defending your home during a wildfire easier.
Anyone in our immediate response area qualifies for a
FREE defensible space evaluation: CALL 707-876-9438
Don't forget to follow us on facebook:
Don't neglect to educate the kids on fire safety so they are calm in emergencies.