Do you really like vegan food, or are you just pretending?
Let's talk about pretending. As adults, we say it with a sneer - we don't like to think we've caught someone 'pretending to be something they're not.' We'll roll our eyes and proclaim them to be nothing less than charlatans! Fakers! Wanna-be's! The list of names is endless… but… is it really that bad? We're all pretending, every day, for all sorts of reasons. Unlike childhood, when we'd pretend to be a cowboy, a princess, or a unicorn tamer, our adult version of play-pretend can be just as important. As adults, we've reached that stage of "when I'm a grown-up…!" that we all dreamed about as children… but it's not as pretty as we thought it would be. Working? Often sucks. Paying bills? Always sucks. Having a family? It's complicated…
To deal with the everyday, we often have to pretend to make our lives smoother. Maybe we get up to go to work and have a lot going on at home - sick kids, fight with a spouse, overdue bills, and a bad headache. But we 'pretend' the second we walk in that office door - our weekend was great! Kids soccer game was a winner! Our partner made dinner last night, what a peach! I'm cutting coffee out of my diet and I've never felt better!
None of those statements are true, but they avoid further convo when all you want to do is get to your desk, take an aspirin, and finish the next project. This is self-preservation and it's absolutely fine. If you're a hot mess this week, no one needs to know but you if you don't have the energy to rehash, relive, or mention it.
But, and there's always a but, pretending can go too far. As adults, it's our real-life job to keep things we know aren't okay in check. Physical abuse? Not okay to pretend you don't see it happening. Assault? Report that. Dark feelings due to depression or suicidal ideation? Please don't pretend this is okay – literally everyone wants to help you.
Bottom line, a little bit of brushing off what we don't want to face this very second is normal, but there's always a time to face the hard stuff. On a much lighter note, hey, person in the gold Kia minivan who hit 4 cars on my street and drove off pretending they didn't at 1 in the morning – that was an expensive trip to the body shop. You'll feel better if you fess up and quit pretending that wasn't terrible.
On an even lighter YAY IT'S SPRING note, let's not pretend we don't wanna know what's good in downtown Santa Rosa this April!!! Check it out…
What's good for kids in April?
This is the BEST time to think about the Easter Bunny! In downtown, the FIRST EVER Downtown Santa Rosa Egg-Cellent Easter Egg Hunt started on March 15 and ends on April 3rd! There's no specific time you need to pencil-in or change your daily schedule for: over 35 participating businesses located between downtown around Old Courthouse Square, Santa Rosa plaza, and Railroad Square, and the Easter Bunny has left Easter eggs at these thirty-five businesses.
Info:
Though you won't have to change your schedule to be available at a certain time, or be in a certain place, but you WILL have to pick up a 'passport' from one of the participating businesses, and let the hunt begin! Participating businesses will have a large egg poster in the window and DowntownSantaRosa.org/egghunt will provide families with clues and a map to guide them to each business.
Location:
Downtown Santa Rosa! Get walking…
What's good for the adults in April?
We're gonna talk about something that's good at any time of the year, but just happens to be happening downtown in April – Lucha Libre! If you've never been to a professional Mexican wrestling match, you're missing something amazing! Defined by colorful masks, rapid sequences of holds, as well as high-flying maneuvers, this sport has been adopted throughout the US and as far away as Japan… it's just that good. The wearing of masks has developed special significance, and matches are sometimes contested in which the loser must permanently remove his mask – this has developed into some pretty serious bets within the sport, and the excitement during the match is almost palpable! Whether you're a betting type of person or not, this is a spectacle you really don't want to miss.
The deets:
Lucha Libre returns to Santa Rosa featuring - Super Mex Hernandez, Xtreme Tiger, EL Pecador Y mucho mas.
Sat, April 16, 2022
7:00 p.m. – 10:00 p.m.
$20 - $40
Tickets will be at the door.
Refund policy - no refunds.
Or, you can purchase online here: https://www.eventbrite.com/e/lucha-libre-april-16-santa-rosa-tickets-220329339987
Location:
Santa Rosa Veterans Memorial Building
1351 Maple Avenue
Santa Rosa, CA 95404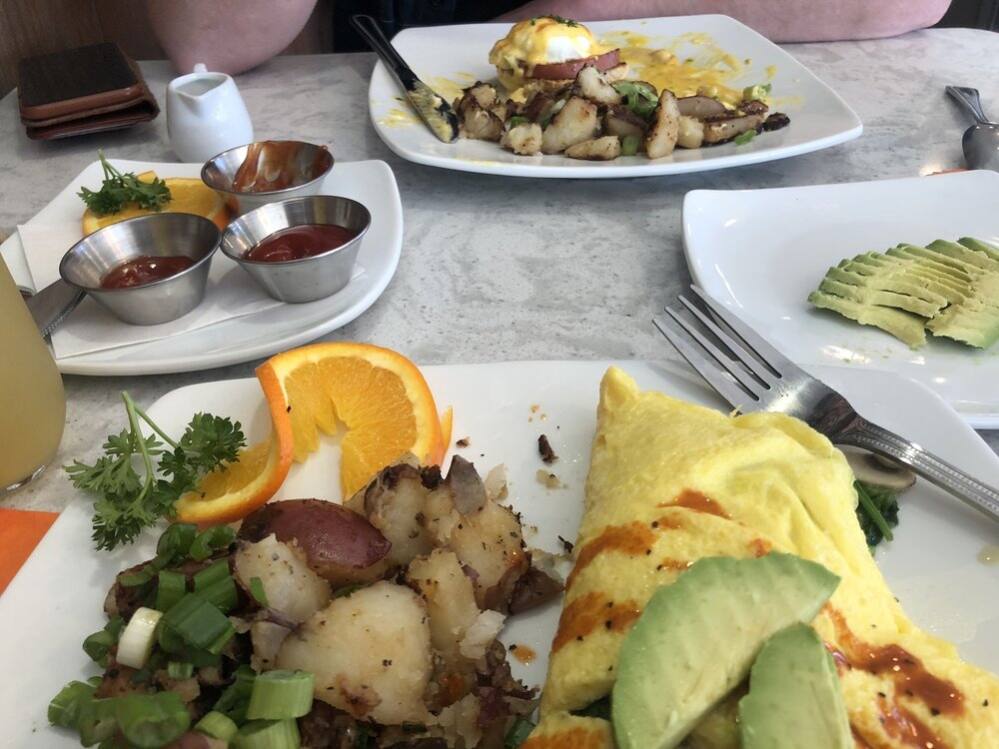 What should I get for lunch?
Being that April is Easter time, let's get traditional – you need some brunch. Fortunately, downtown Santa Rosa is home to THE brunch spot, Café Mimosa. Located right off College Ave., Café Mimosa is dedicated to making all your brunching dreams a reality. Eggs Benedict, omelets, country fried steak, chorizo, and…mimosas! Not just your champagne and orange juice, but guava, mango, pineapple, and whatever other fruity concoction they can come up with – a definite must visit.
Location:
456 College Ave, Santa Rosa
Phone: (707) 293-9450
Hours:
Friday 7 am. - 3 p.m.
Saturday 7 am. - 3 p.m.
Sunday 7 am. - 3 p.m.
Monday 7 am. - 3 p.m.
Tuesday 7 am. - 3 p.m.
Wednesday 7 am. - 3 p.m.
Thursday 7 am. - 3 p.m.