Dear Readers: Fire is coming
We have a record player in our household and I have to say, it's been the highlight of 2021 so far. In a year when we keep practicing expectation management, the one thing we have been able to get consistent joy from is pulling out a record, placing it on the turntable and pushing, "start."
Each of us can do it, even the freshly-minted 4-year-old (the youngest celebrated her birthday on March 21). It feels good to have anyone in the family empowered to put on some music. Sometimes it'll match someone's individual mood; the girls gravitate to Frozen or Lady Gaga. I usually opt for CSNY, the Eagles or Elton John (I'm still awaiting my new Miley Cyrus, thank you). Jason, my husband, is often on shuffle mode. With the recent announcement of the Last Record Store's upcoming closure (and upcoming re-opening), he dropped everything and raced over to see what he could find.
After waiting in line (it moved fairly quickly for those of you still wanting to make your way over to the Mendocino Avenue mainstay), he perused for his allotted time and came back with some treasures, including a 2019 Flying Lotus album titled, "Flamagra."
If you aren't familiar with FlyLo, and you're willing to try it out, prepare yourself and remember: We live in Sebastopol. It might not be a bad idea to pull out your hippie threads and let your hair down, because the cacophonic melodies and beats are psychedelic enough to make you feel funny. Sometimes too funny.
But I'm not here to talk about drugs.
Flamagra kicks off with the voice of David Lynch, arguably one of Hollywood's weirder directors, telling a story about Tommy, his dad and his mom.
A yellow phone rings.
"Mom there's a man on the phone," Tommy says.
But mom is worried about a strange substance on her flowers that she can't get off. Her brow furrows with worry. She lets the hose water run as Tommy sees something in the sky. He hears a man yell, ala Paul Revere: "Fire is coming. Fire is coming. Fire is coming."
Then the beat drops and everybody dances like we're at some sort of rave.
As a mom who has raised her kids in flame-filled Sonoma County, the story horrifies me. Naturally, my youngest wants to hear it on repeat.
"Can we hear the story song, mama? The one about Tommy and the fire?" she asked over the weekend.
"Oh? The one about our very near future?" I wanted to tell her. "Mmmhmm. Sure. Sure sure suuuuuuuure."
I put the song on and she dances, most likely carefree and worry free. But I am the mom with worry lines, trying to figure out when the fire is going to be in the sky.
Because on some level, my kids have to recognize: "Oh, I am Tommy," right? They see themselves as this young, fictional boy, talking to a parent about climate change happening right before his eyes.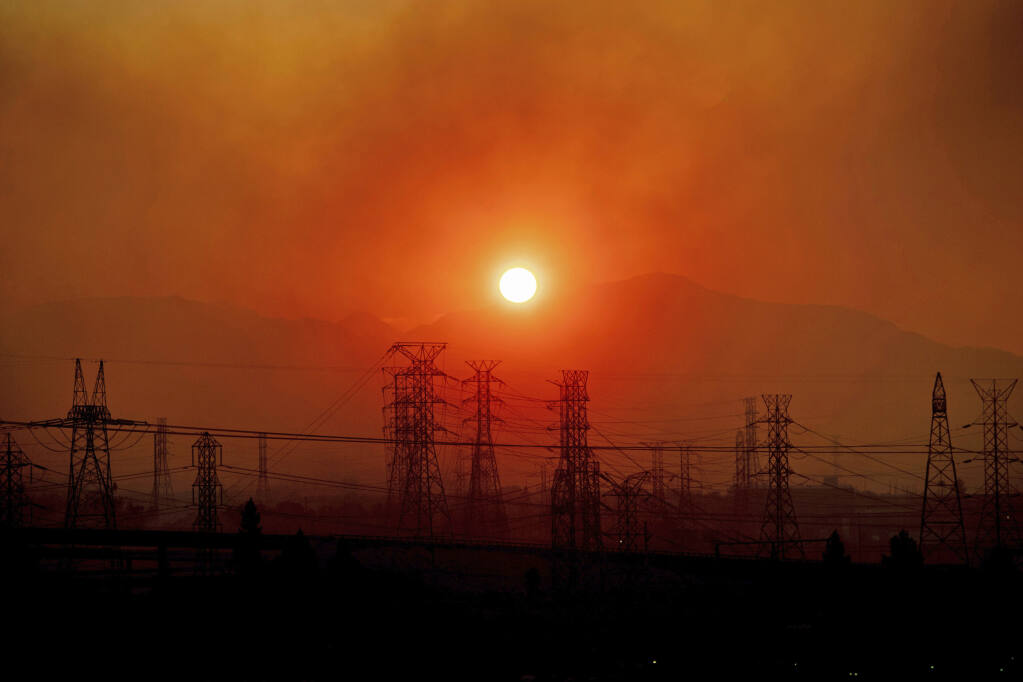 Climate change is happening right before our eyes in Sonoma County. Many of our officials have called Sonoma County Ground Zero for climate change, and I don't think that's a misnomer or even hyperbole. According to Mark Heine, chief of Sonoma County fire, our fire season will likely run June through December. Maybe even earlier.
We can be scared or we can be prepared. I've kept my kids relatively sheltered over the past two years of fires, but I recognize that if we are going to make real, lasting changes in our environment and in our world, we have to let them know what we face. We shouldn't scare the pants off of them (For example, I don't recommend watching the music video for 'Fire is Coming.' That will scare the pants off of your kids. And maybe you. Though, I will share it with you anyway so that my husband and I can talk to SOMEONE else in Sonoma County about it. Please. PLEASE.).
But we need to educate them of the realities and barriers they face. We need to let them know we can't keep digging fossil fuels. That our water isn't something that just keeps coming out of the faucet like magic. That the warm, spring weather we're having -- while a much needed reprieve from the long COVID winter -- is also worrisome: we should not be having 80-degree days right now.
Because, fire is coming and we need to be ready for it.
How are you readying for it? Aside from holding raves in your living room? Email me and let me know. Let's continue to ready ourselves, Sonoma County.