Cooking on the coast: A peek inside Valley Ford Cheese & Creamery
"Cooking is essentially manipulating water, temperature and time," says Pancho Vasquez, the head chef at Valley Ford Cheese & Creamery on Highway One, which produces exceptional Fontina, Montasio and Gorgonzola style cheeses that pair nicely with the cold climate wines for which the West Sonoma County is famous.
"If you're braising something, you're using water to trap flavors inside. The reverse is true if you're searing something. You want it as dry as you can get it, so that water doesn't act against you. The same is true of cheese. When you remove water, you're concentrating the flavor and changing texture," says Vasquez, who studied at The Culinary Institute of America at Greystone before apprenticing at the Restaurant at Meadowood under Michelin three star chef Christopher Kostow.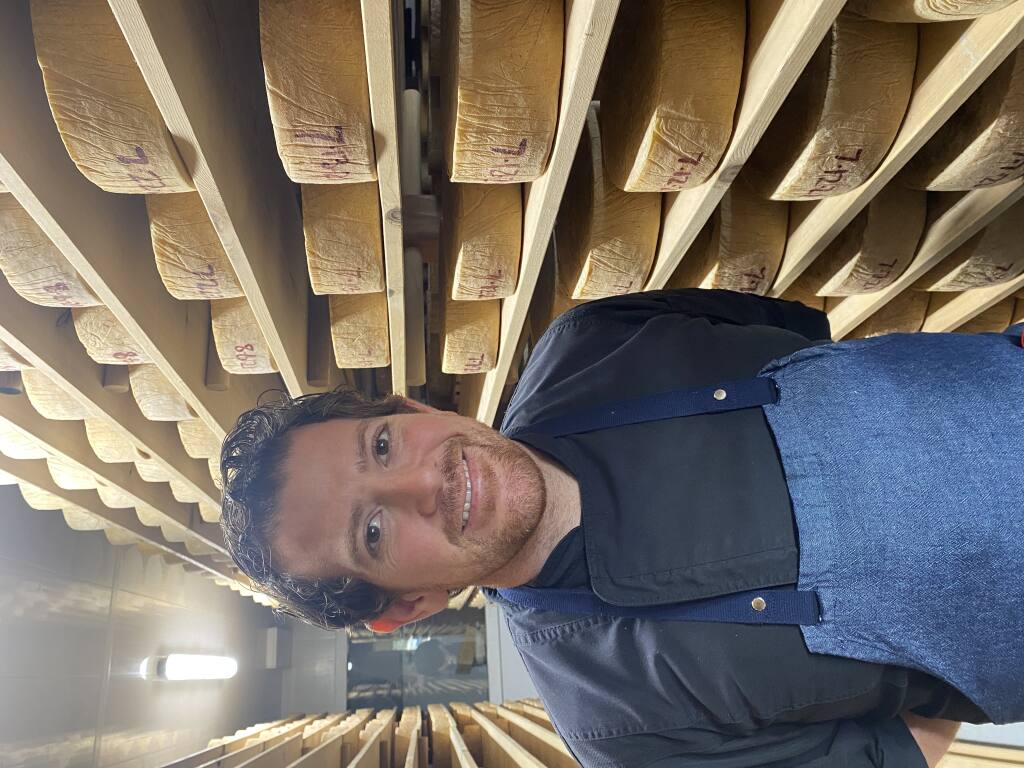 Today, Vasquez runs the restaurant at the Valley Ford Cheese & Creamery, which serves an abbreviated lunch menu that includes Grilled Cheese Sandwiches, Grilled Cheese with Pastrami and a life changing Tuna Melt. More on that later. First, let's focus on their cheese.
Valley Ford Cheese & Creamery considers itself a cheese shop first, and a restaurant second. Their menu was created to showcase their cheeses, which not surprisingly are even better melted. Why? Because fats are more aromatic when the temperature is higher. Flavors open up when food warms up. Which is the same reason why red wines taste better at room temp.
Cheeses are made by removing water from milk over an extended period of time. Valley Ford Cheese & Creamery makes all their cheeses from Jersey Cow milk, which is particularly high in butterfat and protein. Their herd of 60 cows grazes close by and produces about 1000 gallons per week of milk.
As a rule of thumb, one gallon of milk makes roughly a pound of cheese, depending on how long it's been aged. The longer it ages, the more water evaporates and lighter the weight, which is why aged cheese costs a little more. Their Estero Gold (aged 6-months) is $13.50 a pound, while their Estero Gold Reserve (aged 18-months) is $15 a pound.
Now let's talk about that tuna melt. This mind blower of a sandwich is served on freshly baked, lightly toasted ciabatta that's made daily with just a dash of rye to give it a bit more graininess. The tuna is albacore caught off the coast of Fort Bragg fisherman, flash frozen and canned in Oregon. Vasquez uses his own mayonnaise and adds dill, chives, mint, pickled celery, satsuma oranges, citrus salad and avocado to produce a truly epic incarnation of tangy, buttery delight. I shared one with my wife and I'm still regretting not having one all to myself.
When you're done, head toward Bodega Bay and visit the Potter School, which Alfred Hitchcock used for the famous crow attack scene in the classic horror film The Birds and make an Instagram story of yourself running down the street screaming with the school on the hill in the background.
Eric Schwartzman is editor of the Sonoma Wine Tasting Blog.