Community Heroes in Cazadero and the Cazadero Dozer Crew
EDITOR'S NOTE: Natasha could not submit her column this month, but I wanted to make sure the rest of our commuity knows who the Caz heroes are who helped keep others from losing their homes to fire - THANK YOU EVERYONE! Donations for the Cazadero Volunteer Fire Dept. can be sent to PO Box 67, Cazadero, CA 95421
This is where Facebook really comes in handy for staying in touch with people during emergencies. Damian Bouné contacted me to get me connected to the Facebook Caz Hills - Fire / Emergency Notifications. From there I asked about the now famous Cazadero Dozer Crew who created a multi-lane firebreak across the ridges of hills outside Cazadero and north of Rio Nido and Guerneville.
Bill Bohan, of Bohan & Canelis, called me to get me started with giving credit where credit is due and filling in details of which I knew nothing. They started out protecting their community from the Myers Fire that was too close for comfort. Prevailing winds blew that one down to the sea and finally contained and out. But the Walbridge Fire, joined by the Skaggs Springs fire, just kept moving across ridges and down canyon sides, igniting more fires along its path.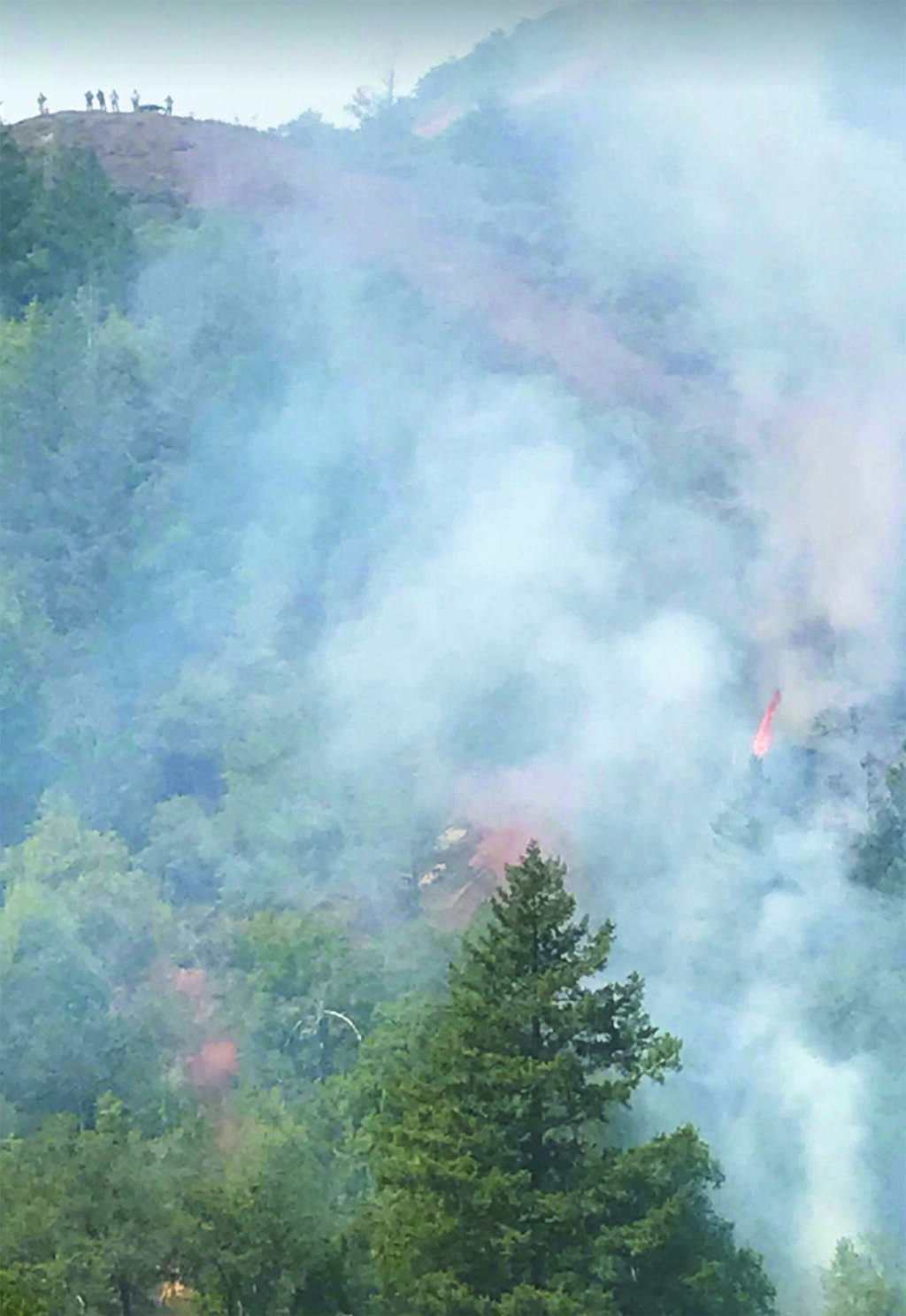 Professional and volunteer firefighters were spread out across the state fighting lightning-induced flames just about everywhere, and especially in Santa Cruz where even the Graton Fire department sent crews and equipment. That left Sonoma County under-staffed. But not for long.
Retired firefighters came out of their homes to help direct. Large equipment operators jumped on their bulldozers and organized a united front. Cazadero is famous for the Parameter family, a clan large and strong, experienced and spirited. The Bohan and Canelis families are engineers and earth-movers, and used to own the quarry in Caz that is now owned by the Trappe family of Forestville. These people know how to move earth, have the equipment to do it, and the knowledge and experience necessary to do it well.
In the meantime, families came out to support the crews with food and beverages, supplies and anything they could do to play their part. Local restaurants with food in the frig and no customers to feed brought brown-bag lunches, beverages and supplies out to where firefighters and volunteers came to refuel and rest.
This is just the beginning of fire season, but at least with the way this fire is being handled, we know a lot of the fuel we feared has burned in the most peaceful fire we could have hoped for. We are some lucky people here in Sonoma County!
I, Wes Parmeter, was deployed with Andy Noonan. We met my brother Greg Parmeter, a Cal Fire operator #1443 at Savio Ranch Road, Cazadero. From there we worked our way into Grey Creek to the fire's edge, worked through the night trying to stay ahead of the fire.
Early morning hours (Wednesday) Doug and Cole Parmeter joined us with 2 more dozers (they had been on the Meyers fire) making a total of 4 dozers so far (1 Cal fire dozer and 3 from Parmeter's that were on list as available with and then contracted by Cal Fire). All 4 dozers worked through the night into the next day at Grey Creek.
Working our way to Palmer Creek Canyon saving structures all along the way on McCloud Ridge, saved all structures along Palmer Creek Canyon working toward McKrey Ridge. At the top, we discovered already destroyed structures. We had to re-group and choose a strategy how to best control the fires western edge as we had decided "home is home" at which point we turned and went out the ridge towards Bull Frog Pond making our way to the edge of the fire on the western flank, fighting the fire direct on the fire-line, saving much of Cazadero and old Cazadero.
We were joined by support from the home shop on the western side: equipment, operators, fuel, water trucks, tenders, supplies etc. and continued to patrol spot fires and do the job that we were hired to do.
In alphabetical order - here is a list of so many folks who dropped everything to protect our West County communities - endless thank yous!
FIREFIGHTING CREW:
Gabe Barrio
John Bei
Bill Bohan
George Bohan
Jim Bush
Rob Bush
Louis Burrato
Nick Canelis
Tim Canelis
Casey Chambers
Jimmy Cheatham
Dylan Eichelberger
Austin Hall
Seth Harmer
Billy Harrison
Dave Gevas
Bob Mann
Mark Mann
Andy Noonan
Sean Nunez
Jason Ofill
Ashley Parmeter
Cole Parmeter
Devin Parmeter
Doug Parmeter
Greg Parmeter
Jake Parmeter
Jeff Parmeter
Joe Parmeter
Mike Parmeter
Seth Harmer
Steve Parmeter
Todd Parmeter
Tom Parmeter
Wes Parmeter
Ben Radtkey
Charles Radtkey
Greg Reynolds
Andy strode
James Trappe
Jonathan Trappe
Joe Turner
PROVISIONS & SUPPORT
Gayle Alexander
Daryl Anderson (Caz Store)
John and Kay Barnes
Jubilee Beggs
Britnee Brasher
Café Aquatica
Cape Fear Café, Kim Jackson
Michael Curran
Charity Epperson
Fern Bar
Brett Friend
Stacy Gevas
Pat Gluch
Eric Guerne
Sia Kidd Imrie
Jams Joy Bungalow
Charity Epperson
Nimble & Finn Ice Cream
Harriet Parmeter
Heather Parmeter
Kim Parmeter
Lisa Parmeter
Melinda Parmeter
Rachel Parmeter
Taryn Parmeter
Bobby Payne
Sia Petilisa
Kerri Rampone
River's End
Wanda Swenson
Wendell & Gwen Trappe
Mark Weiss (Raymond's)