Changing rules for vacation rentals
Sonoma County supervisors are considering big changes to the County's vacation rental ordinance.
The ordinance is scheduled for review March 17, after 18 months of work, and the public has several opportunities for comment.
The surge in short term rentals has created challenges that current regulations are not adequate to address. Planners at Permit Sonoma have been working on revisions to the Sonoma County Short-Term Vacation Rental ordinance, with significant input from community voices. The revisions to this ordinance (ORD21-0005) are in review by the Planning Commission and County Counsel. This ordinance applies to unhosted rentals where no responsible party lives on the property.
Public review is scheduled for March 17, 2022 at a Planning Commission hearing that will include the Vacation Rental Ordinance. You can sign up for email updates for dates, times, copies of the agenda, and revised ordinance to review prior to the hearing. Next, the Planning Commission has tentatively set April 19 to present the final revised ordinance to the Board of Supervisors
Top among the concerns is enforcement of rules that make sharing our residential neighborhoods with this business tolerable. Density of vacation rentals vs. homes, parking limitations, emergency preparedness, noise, lights, and more are identified and addressed.
Enforcement to include a new compliance hotline
Sonoma County is in the final stages of contracting for a 24-hour complaint hotline that will be operated and maintained by a third-party vendor. This eliminates the confusing search for who to call to report an infraction and creates a record of action taken to respond to complaints. One simple phone call starts the process of addressing a problem then follows through on getting it resolved quickly and reporting back to the complainer on what has, or has not, been accomplished. Complaints include noise, lights, parking, etc.This hotline is moving forward under the old ordinance, and so will be launched independently of the ordinance change.
Vacation rental licenses will need to be renewed annually
In addition to obtaining a zoning permit allowing a property to have a vacation rental, operation will require a vacation rental license that gets renewed annually. This license may be temporarily suspended for violating operating standards or subject to nonrenewal where the operator has a history of non-compliance. Licenses may also be revoked in more serious cases of non-compliance. If a license is revoked, a new license for the parcel will not be issued for a period of 2 years.
Rentals will be required to have a nearby property manager
Rentals must have a certified property manager who lives within 30 road miles of each rental and respond to complaints within 60 minutes during the day and 30 minutes during quiet hours (10 p.m. -7 a.m.) whenever the property is being rented on a transient basis. Property managers must meet standards of performance in order to keep their business license/certificate.
More attention will be paid to building code status and fire inspections
Vacation rental licenses will not be issued to any parcel with open code enforcement complaints and/or building permits that have not received a final inspection. Prior to issuing a vacation rental license, the property will be inspected by the County fire marshal or local fire protection district for compliance with building and fire safety codes, including but not limited to smoke/CO2 detectors, adequate egress from all bedrooms, adequate defensible space, proper vents on gas-fired appliances, compliant wood stove appliances, and chimneys, etc.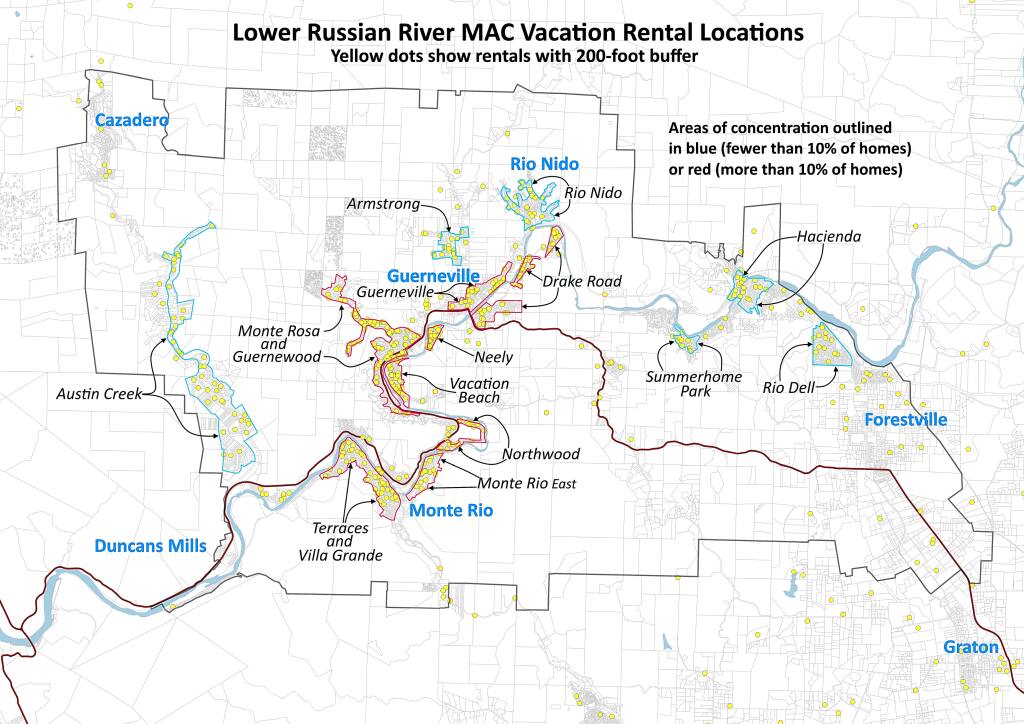 Density caps are a possibility in crowded neighborhoods
Caps may be applied in neighborhoods where high concentrations of vacation rentals are adversely impacting neighborhood character, or have inadequate parking or emergency access, or local housing stock is at risk from conversion to visitor-serving uses. Caps are set at 10% of the local housing stock and no new vacation rentals may be licensed until the number of active vacation rentals is less than 10% of the local housing stock. The initial 10% cap may be lowered if found to be inadequate to preserve neighborhood character and protect public safety.
Parking requirements
Off-street parking is required for all vacation rentals with more than one guest room. The width of roads will also identify if on-street parking can be accommodated or not. Emergency vehicle access must be maintained, and blocking an emergency vehicle may result in license revocation.
Occupancy limits will be tightened
Maximum occupancy is limited to 12 guests regardless of the size of the home (current ordinance allows up to 18 during the day and unlimited guests on specific holidays). Vacation Rentals served by septic systems are limited to the number of bedrooms associated with the septic system. If the system capacity cannot be verified or the owner is unwilling to provide a septic findings report, vacation rentals occupancy is limited to not more than 4 guests at any time.
We'll have new emergency procedures
Vacation Rentals must provide an evacuation handbook to guests that explains the Sonoma County emergency notification system, evacuation zones, and evacuation routes associated with the rental. Guests must evacuate at the WARNING stage in emergencies. The property manager is responsible for verifying guests have left and is required to report the guests to law enforcement if a mandatory evacuation notice is issued and the manager is unable to contact the guests, cannot verify the guests have vacated the premises, or if the guests refuse to leave.
Fire safety is an important part of the new ordinance
Outdoor fires, pits, and charcoal or wood-burning BBQs are prohibited during designated fire seasons and Red Flag Warnings.
This proposed ordinance has been widely workshopped with the community. Permit Sonoma Staff has presented workshops at meeting of Sonoma Valley Citizens Advisory Commission, Springs Municipal Advisory Council (MAC), Lower Russian River MAC, Sonoma Coast MAC, Geyserville Planning Committee, The Sea Ranch Association, Mission Highlands Homeowners Association, and Gehricke Rd. Fire Safe Council. Outreach to industry stakeholder groups included North Bay Association of Realtors, Sonoma Coast Vacation Rental Owners, Sonoma County Coalition of Hosts, and The Sea Ranch Hosting Coalition. Input from these groups has significantly informed the changes in the ordinance. The Lower Russian River MAC meetings in December and February included full presentations on the changes.