Analysis: Could bridge funding help West Sonoma County Schools transition to an ongoing sustainable budget?
This is part of an ongoing reporting series – please see Analysis: What are the options for high school students in West County? online.
The West Sonoma County Union High School District (WSCUHSD) is facing a financial crisis. The district's budget reflects an approximately $1.35 M gap between revenue and expenses beginning in the 2021-22 school year; reserves are projected to be depleted by June 2022.
There are two ways to close a funding gap: with increased revenues or with decreased expenses. The district has identified several ways to cut costs other than closing a school. Some possibilities include: eliminating under-enrolled class sections; shifting to the more common six period schedule from the current more costly seven period schedule; relocating Laguna High School to the El Molino campus; and/or relocating the district office to the El Molino campus.
Is the solution for ongoing fiscal health to eliminate programs or close a school immediately?
The potential closure of a school campus has been a hot topic of debate at recent school board meetings and in public online forums. Meanwhile, two possible solutions have been proposed that would raise temporary bridge funding and provide time to collect the data needed to restructure with purpose rather than with a crisis response.
At 400 square miles, the WSCUHSD's students are spread across an area more than twice the size served by Santa Rosa City Schools' five high schools. The closure of a West County high school would create additional barriers for many rural and economically disadvantaged students who already have school commutes longer than an hour each way. This is especially difficult for adolescents who, studies have shown, perform better in school when they have later start times.
On the other hand, some parents are concerned that cutting costs by eliminating the seven period day or cutting under-enrolled sections would put their students at a disadvantage because there would be fewer opportunities to take electives or AP classes than is currently possible.
Why wait?
At the request of the WSCUHSD, the Sonoma County Office of Education initiated a unification study in November. The study will evaluate whether there could be (1) an economic benefit and (2) an enhancement of educational programming by combining some or all of the ten elementary districts in our area with the high school district. Once that report is completed in a year to 18 months, any resulting restructuring plans would then be brought to district voters.
Bridge funding designed to last for approximately three to four years would allow the time necessary to complete the unification study, evaluate potential redistricting, conduct strategic planning, and implement any changes. A restructuring of this magnitude should not be undertaken in a hasty manner, if at all possible.
Could a West County Transient Occupancy Tax provide bridge funding?
On Monday evening, November 23, the WSCUHSD Board of Trustees will hear presentations about a proposed West County Transient Occupancy Tax from Fifth District Supervisor Lynda Hopkins and Sonoma County staff at a special school board meeting.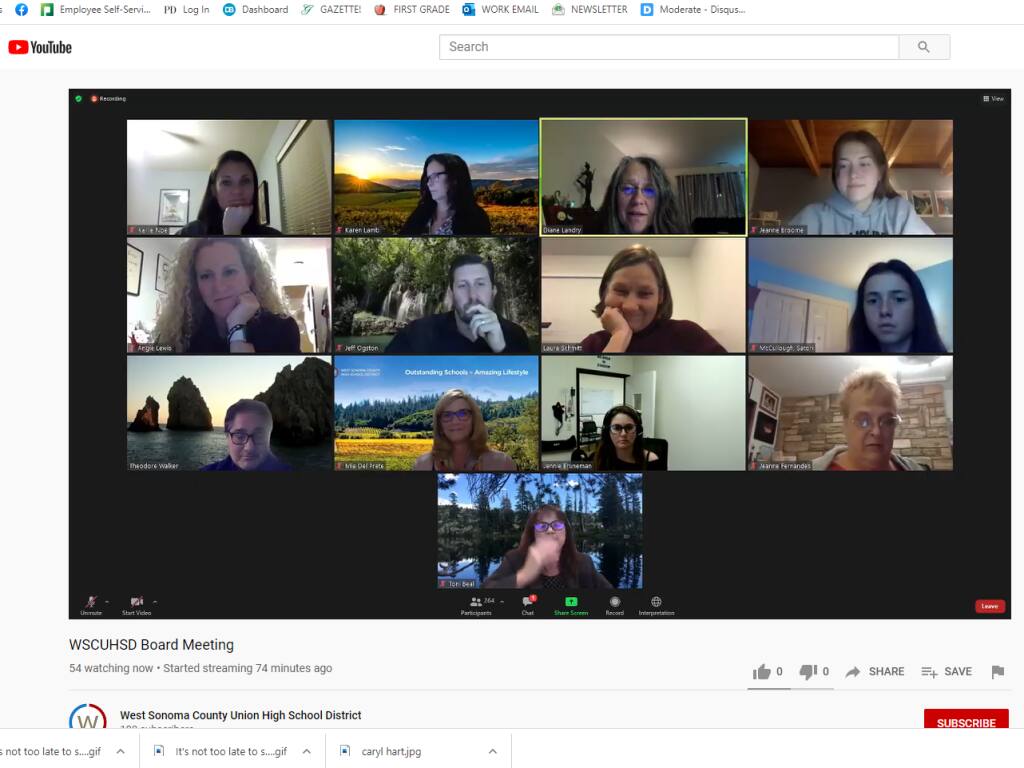 Under this innovative solution identified and developed by Supervisor Hopkins, a Transient Occupancy Tax (TOT) would levy an additional 4% tax on overnight visitor accommodations. In addition to supporting education in West County, this TOT would also bolster funding for the Bodega Bay Fire Protection District. Bodega bay parcel taxes currently fund the BBFPD, while 80% of emergency calls are to rescue tourists.
Schools are primarily funded based on attendance. A major factor impacting decreased school funding in our area is declining enrollment. Though we love the tourists who visit our beautiful West County, it must be acknowledged that decreased housing stock from vacation rental conversions is a unique impact that tourism brings to our region. West County is home to 43% of the permitted vacation rentals in Sonoma County. This has an impact on the ability of families to live in the area and contributes to our schools' declining enrollment and subsequent decreased funding.
What kind of oversight would there be for the education revenue generated by the TOT?
The first few years of the proceeds from this tax would keep both comprehensive West County high school campuses open while more data is gathered from the unification study. This would allow time for a well-informed and equitable long-term restructuring to take place.