A beautiful season for health in the home garden
At last our parched, local Earth is drinking in the sweet cloud rain again. The soil biology imbibes and exhales that wonderful scent of fertility into the now fresh air, and we humans can safely welcome the sacred fire back into our hearths and hearts with less trepidation.
For a brief moment the foliage of many deciduous trees and shrubs glows in the cool breeze with late autumn colors, steadily dropping leaves. Red maples (Acer sp.), burgundy plums (Prunus sp.), and golden Ginkgos light these grayer, shorter days as we approach the Winter Solstice (the shortest day of the solar year). While we admire the show and imagine planting for seasonal color in our own landscapes, may we consider "stacking functions" (a central principle of Permaculture design methodology) by selecting plants for delightful Autumn hues as well as other needs such as food, medicine and wildlife habitat. Persimmons, peaches, chestnuts and walnuts are great examples. Less common treasures include redbud (Cercis sp.) with their edible, late-winter blooms and basket-ready branches, and the heart-tonic, red berries and stained-glass leaves of hawthorn (Crataegus sp.).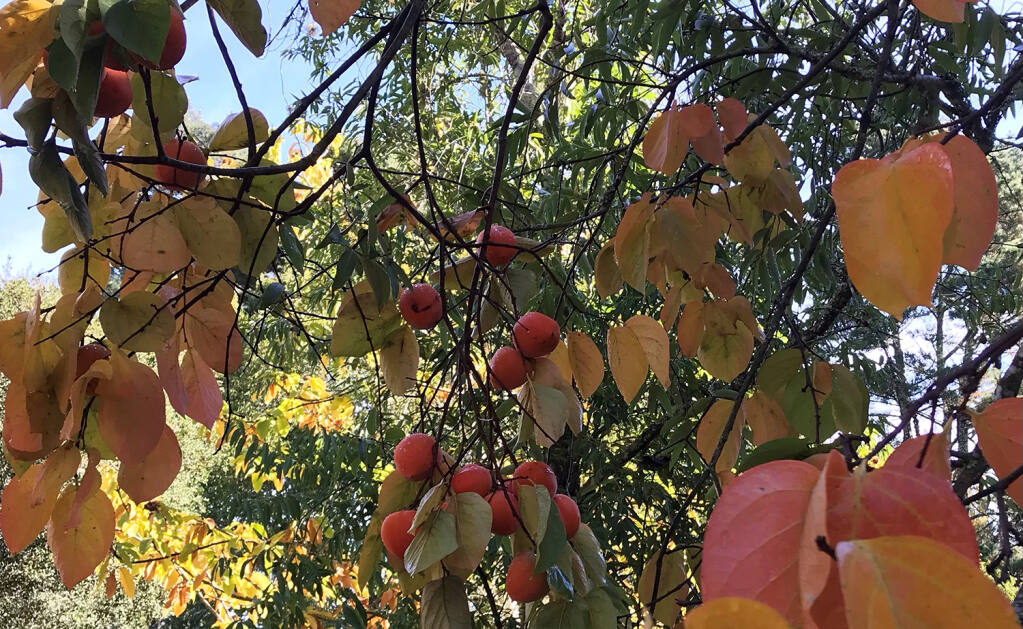 Many plants are going dormant this time of year, including our region's abundant apple trees and grape vines, with myriad colors of their own. Numerous other plants, however, are just waking from their dry slumber to turn our region lushly green again, and we find ourselves in a very different season of gardening place.
With this natural inwards tide of fall into winter, it is a perfect time to tend even closer to home. I am inspired to remind us of our plants that are both food and medicine, and to encourage us to lean into these friendships for support after such an unprecedentedly stressful year.
Whether you have a small garden, or acres to tend, our culinary herbs and dark leafy greens are fantastic to locate and proliferate closest to our kitchens. Oreganos, marjorams, thymes and sages (Salvia officinalis), are classic Mediterranean herbs with diverse culinary and medicinal value, used in many different cultural traditions. Get creative and eat more! They are well adapted to our climate, being hardy, drought tolerant, flowering plants that serve solidly in landscaping as well as provide nectar for bees, hummingbirds, butterflies and kin. Of course there are so many more perennial herbs to consider, both from around the world, as well as native plants of California. Now is an excellent time to plant such perennials so they can get established through the cool, wet season. I encourage planting these herbs abundantly in your landscaping (in a fire-wise manner). Harvest leaves and flowers fresh as well as to dry for your own spice kits for year round use. These plants grow faster, more lush and bloom more with enough, but relatively low water. A well placed drip irrigation will do fine.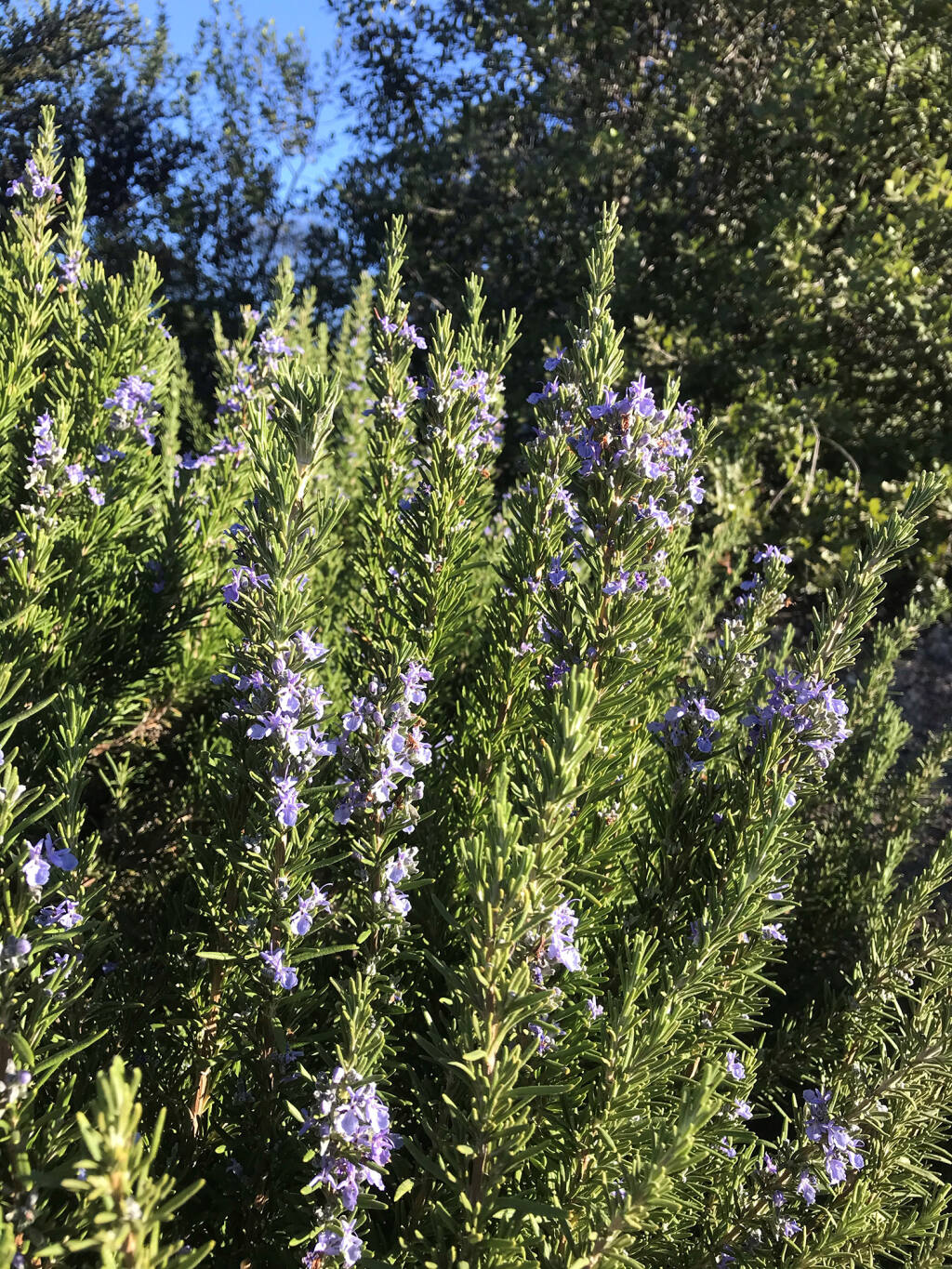 But what I really want to talk about is ROSEMARY (Rosmarinus officinalis) and my wife's rosemary parsley pesto!! (Thank you, Honey!) Seriously, though.
Rosemary is awesome for times like these. Not only is rosemary a stellar landscape specimen with diverse forms, and cheerful, blue-purple blooms in almost every season, it is a delicious medicinal food with attributes specific to supporting both mental and respiratory health. And it has anti-viral properties too! Who among us does not need such help this year?
In addition to the values of Rosemary in this pesto recipe, Parsley (Petroselinum crispum) is a fantastic source of vitamin C to support our immune systems and can be grown year round in our climate. Plant lots of either flat leaf of curly-leafed varieties, and do so in both spring and fall annually to keep the harvest flowing! Garlic provides powerful antiviral properties and can also be planted in fall or spring. The extra virgin olive oil, which is available from local growers, is rich with Essential Fatty Acids (EFAs) for optimum tissue regeneration nutrition, along with the protein and fat of pumpkin seeds. The lemon and sea salt offer great electrolytes to help us stay adequately hydrated and can also be regionally sourced. It is a deeply nutritious and delicious health tonic that you can spread on just about everything from toast to eggs, roasted roots and winter squash, steak, pasta and more!
Rosemary Parsley Pesto Recipe:
Blend the following ingredients and balance to taste.
Fresh Rosemary leaves and flowers - (1 - 3 Tablespoons)
Fresh Parsley leaves and stems - (1 big bunch)
Garlic (raw) - (1 - 2 cloves)
Olive Oil, Fresh, extra virgin - 1/4 - 1/2 cup
Toasted Pumpkin Seeds - (1/2 - 3/4 cup)
Lemon Juice and Rind. - (1 lemon, sliver of rind)
Sea Salt - (1 - 2 teaspoons Atlantic grey, or salt to taste)
This suite of medicinal foods is also a special example to me of our potential to make the most of what we can grow sustainably, regionally, year round, to meet the core nutrition and health needs of our families, while tending a positive impact on our greater world. May we create and practice memes such as this as we experiment in combining foods and plants in our gardens!
If you have rosemary, you surely have enough leaves to go right for a weekly batch of pesto! If you don't, explore the variety of options and get some! If your plants are overgrown from time without pruning, you can harvest more thoroughly now to bring the height down and encourage fresh growth. These larger cuts of the foliage can be dried for spice in the kitchen or try this other great health remedy for our times: Rosemary steam inhalation! They are great for cleansing and protecting our respiratory systems, clearing our minds and calming our nerves. Look it up online for more perspective on the subject and enjoy. Please remember to say thank you to the plants, and may you all be healthy!